Post by Bonobo on Sept 19, 2008 23:16:58 GMT 1
Check another thread in this board about Jewish history in Poland:
Jewish Memory
Before WW2 3 million Jews lived in Poland.
Only 10% survived.
FOREST JEWISH CEMETERY
In the south-west outskirts of Krakow there is The Tyniec Forest. It grows on low, but steep hills. The ground and the paths are a bit rocky, just like in many places in Kraków and around it - the whole Krakow area is decorated with limestone rocks.
We go there a few times a year, mostly in summer, to have a strenuous walk on the hills. Lime stones make it difficult to push a pram along the paths but I manage somehow. Children like reading metal posters with information about forest animals and birds, the forest preservation, dangers of fires, etc.
In one part of the forest we used to walk past two concrete platforms, not too big, about 3 meters wide on each side. They posed a certain mystery to us, because the only signs which suggested the purpose of the platforms were some flowers and grave lamps. We presumed it must have been a religious site.
The mystery has been solved in 2007. We discovered two black marble plaques on the platforms. They were set up in 2005. Two wooden crosses lie on the concrete floor next to the plaques. Polish Catholic believers put them there for their Jewish brothers.
Two concrete platforms with plaques among trees....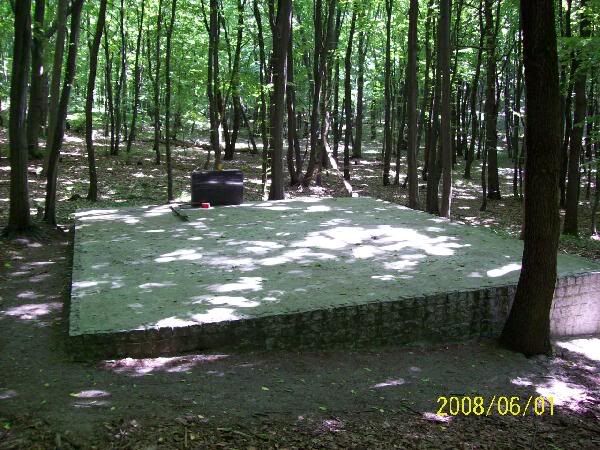 The smaller plaque reads:
Dawid, Roman, Szaja Schonherz from Filipowice
Gecel Goldschmidt from Filipowice
The Grunbergs from Skawina
Let their souls live in eternity.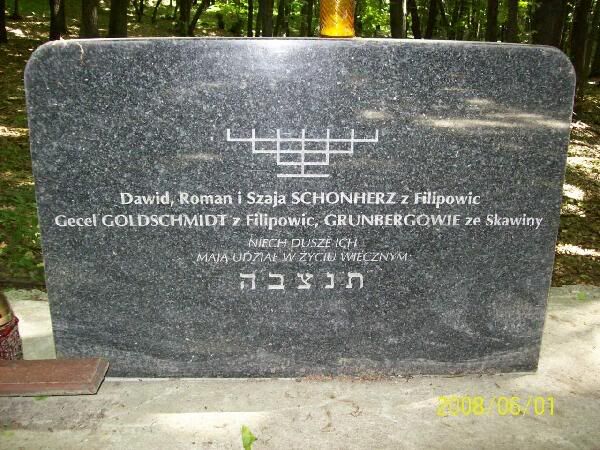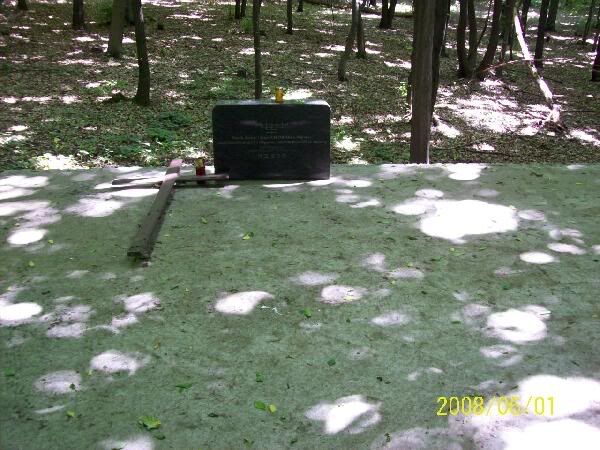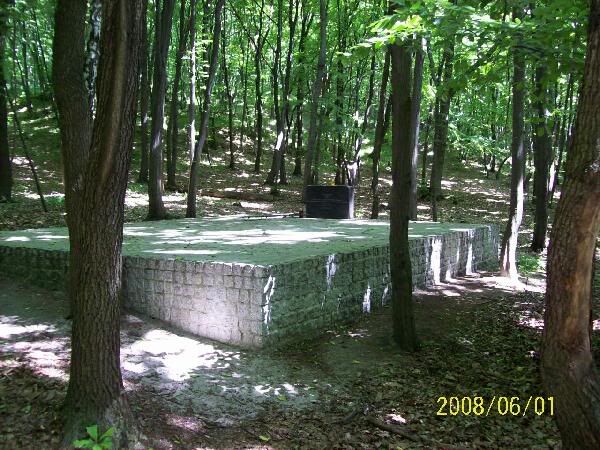 The bigger plaque reads: About 500 Jews from Krakow area are buried in these two graves, the victims of German genocide, murdered in summer 1942.
Only few names are known:
Let them be blessed
Izrael and Regina Abrahamer from Zielonki
Chaim and Estera Chune from Skawina
Mrs Fletscher with her daughter from Skawina
Feuer from Piekary
Samuel and Sara Kenner from Krakow
Zygmunt Kleinberg from Zielonki
Mrs Kleinroller with three children
Kneller
Neigewitz with his wife
Ester and Zygmunt Poranski from Krakow
Herman Spielman from Dziedzice
Julia Weinberger from Wielbornia
Zimmerspitz
Let their souls live in eternity
2005