Post by Bonobo on Oct 17, 2010 21:36:45 GMT 1
A big scandal arose when Serbian radical football fans started spectacular riots during their national team`s match in Italy. The Italian security/police proved rather helpless and the match was broken.
Polish extreme fans can be also very aggressive and violent. Basic gear which the police usually finds on frisked fans is this: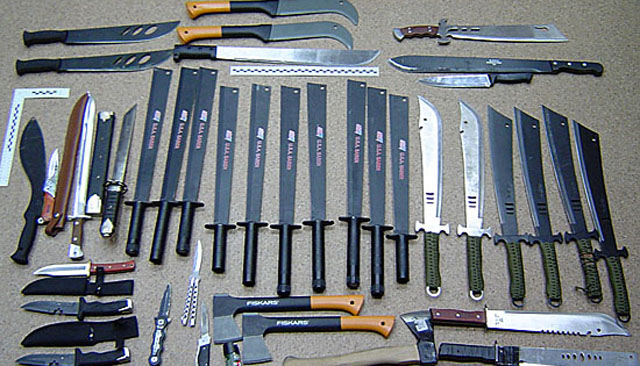 Do such things happen at any sport events in your countries?
If yes, how is it dealt with?
If not, why?
Serbian rioters

Sixteen people were hospitalised after Serbian fans clashed with Italian police following the cancellation of their Euro 2012 qualifying match in Genoa, northern Italy.

In violence before, during, and after the match, some Serbian fans targeted Italian fans, local police and their own team's goalkeeper.

Police made 17 arrests, Ansa news agency reported, citing officials.

Serbian fans scaled fences inside the Stadio Luigi Ferraris, which was the scene of the Republic of Ireland's penalty shoot-out victory over Romania in the 1990 World Cup.

The fans' actions delayed the kick-off and finally forced the fixture to be abandoned.

Buses carrying Serbian fans were later escorted out of the city by police to avoid further clashes with Italian fans.

Officers seized sticks, metal bars and knives from the Serbian fans, as well as a bag carrying large explosive fireworks.

The most seriously injured in the violence was a member of the Italian national police force, who was rushed to hospital after an explosive device detonated in his face.

A Serbian fan also suffered facial injuries.

Last night's match was abandoned just six minutes in, after Italy's goalkeeper was hit by a flare.

After the game, in the early hours of this morning, Italian police kept Serbian fans hemmed into a gated parking area, intending to release them in small groups to waiting buses.

The clashes started when some of the fans managed to break out and police in riot gear moved to try to get them under control.

The violence brought sharp condemnation from Italy and Serbia.

Serbia has long had serious problems with violent football fans, many of whom are linked to ultra-nationalist organisations.

The head of Serbia's football association, Tomislav Karadzic, has described the behaviour as scandalous.

Mr Karadzic said the ringleaders of the violence were in Belgrade and it amounted to an attack against the state, which the state had to resolve.

'The whole of Europe saw the disgrace and shame brought upon Serbia by fans who have kept us under siege in our hotel for two days,' Mr Karadzic told Belgrade's B92 television after the rioting.

'We had information these fans would come here with the intention to force the game to be abandoned and we notified the Italian authorities.

'It's up to the Serbian government now to launch a swift investigation and establish who recruited these young men to come here and riot because this is an act of aggression which goes beyond football.'
See the news report
www.rte.ie/news/2010/1013/italy_serbia.html