Post by Bonobo on Feb 7, 2017 14:16:47 GMT 1
fbk.org.pl/new/de/my_portfolio/eugeniusz-get-stankiewicz-a-poster-exhibit/

Eugeniusz Get Stankiewicz – was born on 14 May, 1942, in Oszmian near Vilnius (today in Belarus). After the war, his family settled in Wschowa in central Poland. Get-Stankiewicz studied in Wrocław, first at the Architecture Department (1961-1966) and then at the Art Academy (1966-1972). For most of his life he worked as an independent artist. From 1998-2011, he did teach at the Eugeniusz Geppert Arts Academy, where he earned the title of professor.

Get-Stankiewicz is best known as a graphic artist and poster designer, though in fact his skills were wide-ranging and he borrowed freely from numerous techniques and created many different types of art. He drew, painted, designed theatrical scenery, experimented with artistic glass. He designed several very original memorials and sculptures, very visible throughout the City, including the Marble Plaque in Honor of Simple Operations 1+1=2 in the Stare Jatki, the bas-reliefs on the Copper Engraver's House, the geometrical "Solidarity" memorial near the Politechnical University, the bust of the African on the façade of the townhouse on Plac Solny (for which he posed himself). He also made several "imperceptible memorials" such as the bronze bird in flight affixed to a tree branch in the northern of the city; or his own likeness etched in a cobblestone, which was then placed "face down" among other cobblestones on a street in Wrocław. His greatest passion, however, was for copperplate engraving. The works of Get-Stankiewicz most certainly belong among the works of the greatest artists in this medium.

He was legendary in Wrocław and a person that almost everyone in the city recognized. This was mainly thanks to the fact that many of his works included self-portraits, but also partly due to the numerous stories and anecdotes that circulated about him from the moment he began to study here. His works show him to have been a keen observer of his times and his contemporaries. His art was grounded in deeply universal reflections on the state of the human condition. In 2012, he was posthumously made an Honorary Citizen of Wrocław by the City Council.
by Mirosław Ratajczak
He had died two months before our trip to Wrocław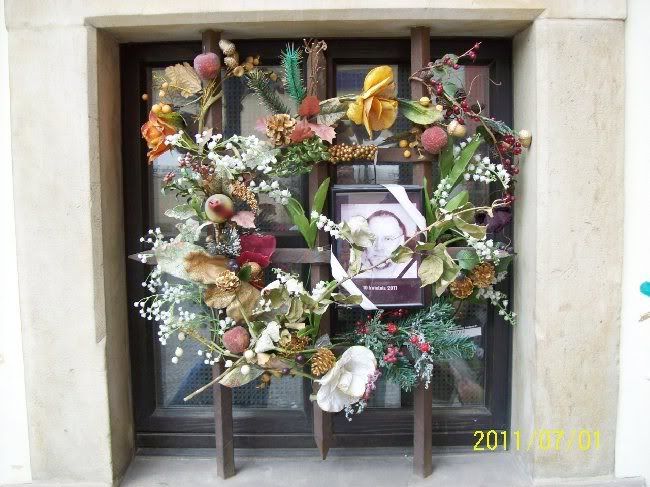 Death should be prohibited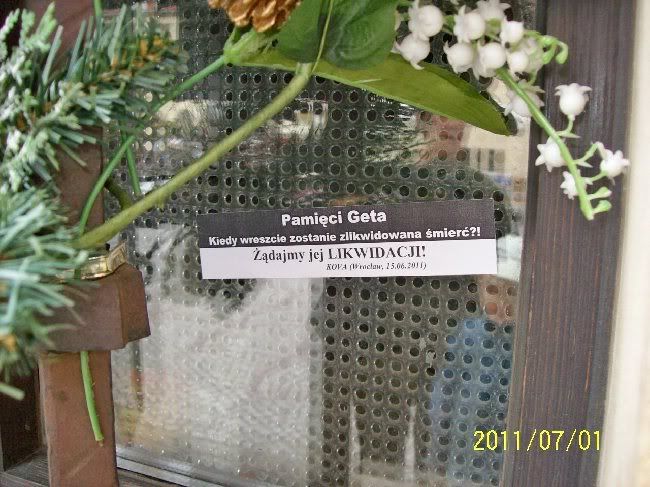 His autoportrait
And his most controvercial artistic creation which is also exhibited in the National Museum.
polandsite.proboards.com/thread/4590/national-museum-wroc-aw

Posted on a wall in the corner of Wrocław's Market Square is a very controversial piece of art. Signed simply "Zrób to Sam" with an English translation "Do It Yourself", the sculpture represents Jesus Christ, a cross, nails, and a hammer, asking us the viewers to follow through on the rest.

Eugeniusz Get Stankiewicz is the author of this sculpture and the said idea came to him while visiting a factory where church decorations were being assembled. He witnessed all the pieces laid out on an assembly table while workers were nailing Jesus to the wooden cross, few hundred pieces per hour. Get Stankiewicz, used to assembling plastic models in his youth, right away thought of what self assembly instructions would look like and created this sculpture.

There are plenty of forums questioning the ideology behind this art. All question reasons behind it; some point out that we as church going Christians do this ourselves with our every day actions, and some are baffled how this could be displayed next to a church in a country some 90% Roman Catholic. One thing's for sure, it causes you to think which in my opinion is exactly what this was meant to do.
[/i]
by polvadis
kortas.blog/2011/01/31/do-it-yourself-zrob-to-sam/