Post by Bonobo on Dec 16, 2018 22:21:59 GMT 1
As a notorious cat lover, I didn`t even know there are six breeds made in Poland altogether.
kobieta.onet.pl/dom/szesc-polskich-ras-psow-znaliscie-je-wszystkie/nlrtgt7
en.wikipedia.org/wiki/Polish_Tatra_Sheepdog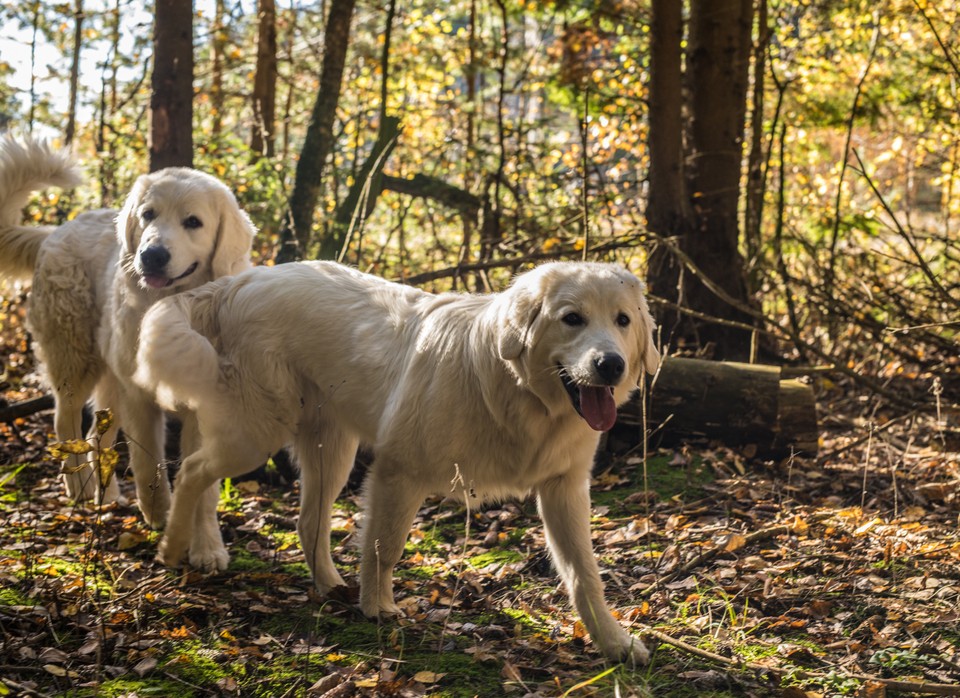 The Polish Tatra Sheepdog is a breed of dog introduced into the Tatra Mountains of Southern Poland by Vlachian (Romanian) shepherds.

Tatras are primarily considered livestock guardian dogs. Their instinct, through hundreds of years of breeding, is to protect livestock, though they easily adopt a family as a flock. They are a good companion dog as well as a protection dog. They are not an attack dog, but rather move threats away through intimidation. They have a loud bark. They are not all that similar in temperament to their Mountain dog cousins the Kuvasz, Great Pyrenees or Maremma Sheepdog. They are less aloof than the other breeds, tending to be better tied into their breeding and not as domesticated or inbred as some of their cousins.

In the USA the Tatra sheepdog is considered a rare breed. It is not recognized by the AKC.

History
The Polish Tatra Sheepdog, which sometimes goes by the Owczarek Podhalanski and the Polish Mountain Sheepdog,[1] originated in Podhale, in the Tatra Mountain area of Poland, hence the breed's name. The breed has lived in the Polish mountains for thousands of years[citation needed], but no exact date for the start of the breed was ever recorded. There is a similar mystery around what breeds were mixed to form the Polish Tatra Sheepdog. While no one is certain, many dog breeders say that the Polish Tatra Sheepdog came from the Mastiff breed.[2] The breed was very popular among mountain workers for several centuries, and up to today. It was so popular because, as its name implies, it was a fantastic sheepdog. This success at herding sheep was mainly due to their high intelligence. When predators were around the sheep, the Polish Tatra Sheepdog would gather up the sheep and stand by them instead of trying to attack the predator, which would leave the sheep open for other attacks. This demonstrates their intelligence. Their white coat also made them easily distinguishable from a bear or wolves, which was very helpful for workers. Also, owners could shave the dogs and use their coat to produce wool. Mountain workers also used to hold their tails while they lead the workers through the mountains and rough terrain. Herding sheep was not the only job the breed could perform. They were often used as personal guards and frequently guarded factories and other private property. On top of this, it was often the case that the breed was used by the police force.[3] The breed faced some hard times, though. After the World Wars the breed was on the brink of extinction. The Fédération Cynologique Internationale, (FCI), would not allow this to happen, though, and by the 1960s they started breeding the sheepdog more and more.[4] Centuries ago, as their reputation as excellent sheepdogs spread, the breed spread slowly across Europe, but in 1980, an American Foreign Service Officer enjoyed the breed so much that he had three of them shipped to America, and by 1981 the breed also spread to Canada.[5]

The Breed Today

Even though being bred more frequently, the Polish Tatra Sheepdog is a very rare breed. There are about 7500 dogs of this breed in the world right now registered on www.owczarek-podhalanski.eu/. The majority are still in Poland, with about 600 being there, but America is sporting around 300 Polish Tatra Sheepdogs. In other European countries, such as France, the breed is growing in popularity, as in 2003 there were 150 births there. The Netherlands now has a booming breeding business for Tatras. About 150 of them are still used for herding.[6]

Appearance

The average height for males is 65 to 70 centimetres (26 to 28 in), while for females it is 60 to 65 centimetres (24 to 26 in).[7] Their signature would be their massive pure white double coat. The coat is wavy with a curly top.

Health

The Polish Tatra Sheepdog is generally a very healthy dog with very few health risks. The average life expectancy for this breed is usually 10–12 years old. As with most large breed dogs, the Polish Tatra Sheepdog can occasionally get hip dysplasia.

Temperament

A lot of today's Polish Tatra Sheepdog's behaviors and qualities can be traced back to its use of guarding. They are territorial, loyal and protective of their owners, and are very good watchdogs for this reason. They have a very loud bark and will bark at anything that is suspicious, as they are trying to protect their family. Since they were trained to be cautious and not attack until completely necessary when predators were around sheep, The Polish Tatra Sheepdog will not bite a stranger or other animals unless continuously provoked, leading them to be considered very dog and animal friendly. From thousands of years of guarding sheep, they are very intelligent, calm and independent.
Maintenance
After thousands of years of running around sheep, the Polish Tatra Sheepdog has a good amount of energy and needs a decently large fenced yard to run around in. It is not a good apartment dog because of its size and amount of energy. They are not very active inside, but are very active outside. This is why constant walks are recommended. During late spring and early winter, the Polish Tatra Sheepdog sheds its undercoat profusely. The Polish Tatra Sheepdog is very intelligent, independent and needs a person well-experienced in positive reinforcement operant conditioning to train.






en.wikipedia.org/wiki/Polish_Hunting_Dog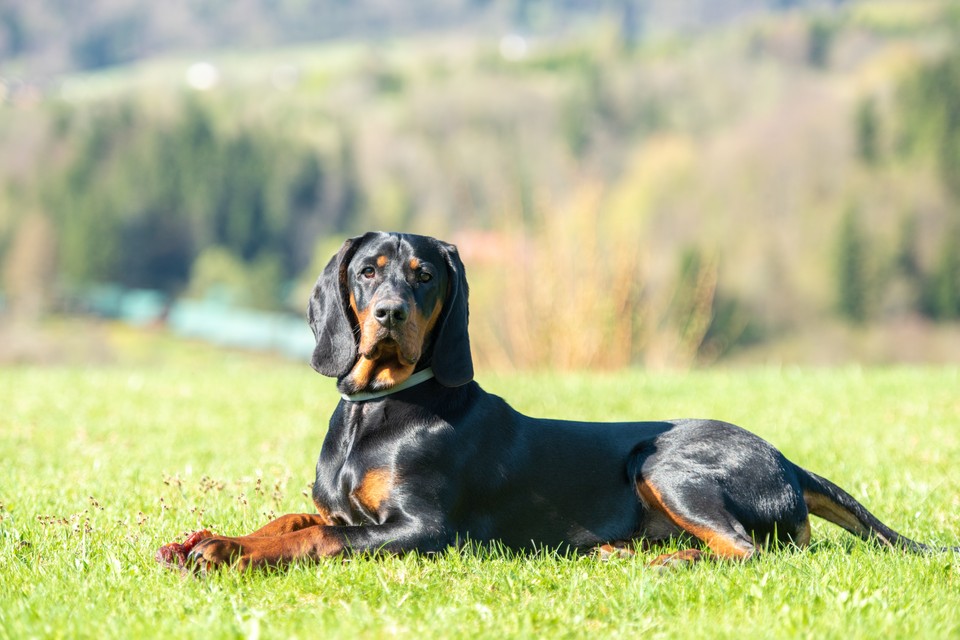 The Polish Hunting Dog, or formerly Polish Scenthound (Polish: Gończy Polski) is a breed of scent hound originating in Poland.

General appearance

A lithe dog of compact construction, whose bone structure is strong but not heavy. The build implies a great aptitude for mobility and an obvious disposition to resist difficult working conditions in mountainous regions. It has a medium build, with both sexes weighing 22–26 kg (48-57 lbs). Females stand at 50–55 cm (20-22 inches) tall, whilst males stand at 55 – 59 cm (22-23 inches).
Temperament

Stable and gentle, this dog is courageous and has demonstrated proof of bravery. The breed is intelligent and easy to educate. Whilst being unaggressive, the dog is wary towards strangers.
Health

They are generally a healthy breed with no reported major health issues related to breeding. They have an average lifespan of 10–13 years, although some individual dogs do live much longer.

History

Hunting with scent hounds was referred to in Polish literature as early as the 13th century. Poland has always been a country covered by deep forests, full of big game where the scent hound was the precious auxiliary of the hunter. Hunting with scent hounds was highly esteemed by Polish nobility as attested by 14th century chronicles. In the 17th century, at least two different types of Polish scent hounds were already well distinguished. Detailed descriptions are found in 19th century hunting literature: in 1819 Jan Szytier (Poradnik Mysliwych) describes the Polish "brach" and the Polish scent hound; in 1821, in the magazine "Sylwan", W.Kozlowski gives a description and provides illustrations of both types, the Polish "brach" (heavier) and the Polish scent hound (lighter); the very detailed description of Ignacy Bogatynski (1823–1825, Nauka Lowiectwa) could be used as the first breed standard.

After the first World War, the Polish scent hound was still used for hunting in Poland in the eastern regions, but especially in the mountains on particularly difficult terrains. In the Podkarpacle region, the famous Polish cynologist, Jozef Pawuslewicz (1903–1979) hunted with Polish scent hounds and was engaged in the development of breeding this dog. He wrote the first Breed Standard and on account of his efforts the breed was officially registered by the Polish Cynological Association.





en.wikipedia.org/wiki/Polish_Hound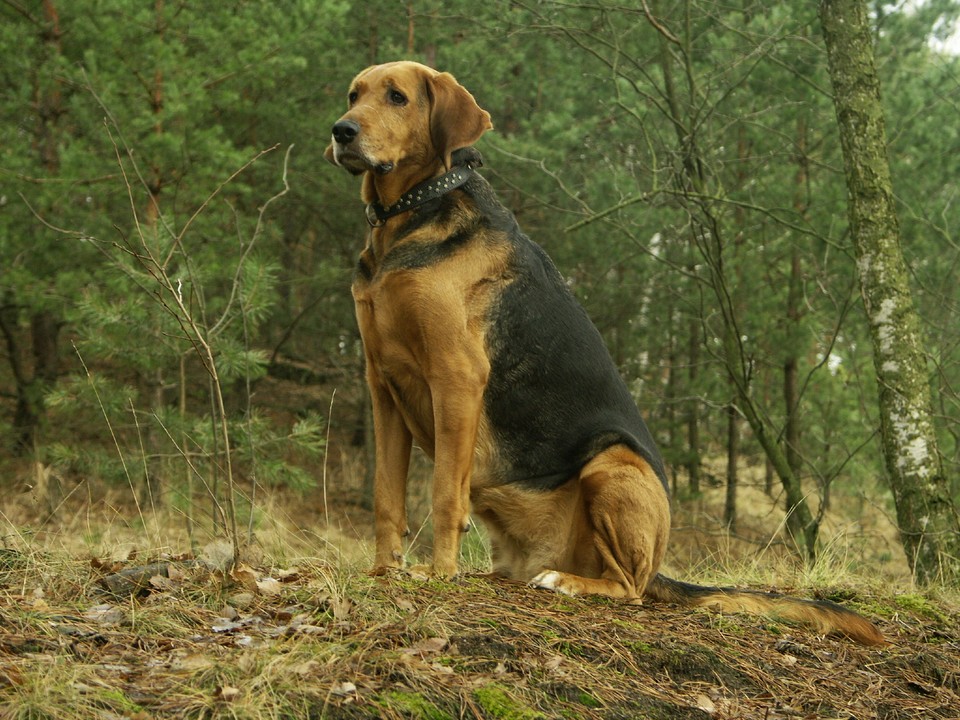 The Polish Hound, commonly known as Ogar Polski, is a breed of hunting dog indigenous to Poland.[1][2] The Polish Hound has a keen sense of smell. This heightened sense combined with the endurance needed to hunt in harsh environments led to its use in hunting, while its stature made it popular with Polish nobility.

History

F.B. Laska (1907), described Polish hounds as descended from the Kostroma Hound (the Hound of Tatars). According to other historians, the Polish Hounds developed through crossbreeding of Bloodhounds (the St Hubert Hound), imported to Poland in the Middle Ages, with local hounds. Jan Szytier (1819) wrote about the "Polish Hound" and the "Polish Scent Hound" in his "Hunting Guide" (Poradnik Myśliwych).[3] World War II resulted in the decline of the Polish Hounds' population. The attempts to revive the breed led to the emergence of two types: light-boned (bred by Colonel Józef Pawłusiewicz) and heavier-boned (bred by Colonel Piotr Kartawik). The latter one was recognized by the FCI as the "Ogar Polski" in 1966.[3]

Description
Polish Hounds reach 55–65 cm (22-23.5 inches) in height. Males weigh around 25 to 32 kg. (55-70.5 lb) while females weigh 20 to 26 kg (44-57.5 lb).

Characteristics and Temperament
The Polish Hound has an average life span of 13 to 14 years.[4][better source needed] A medium-sized breed, Ogar Polski is often described as strong and sleek, with a powerful bone structure.[5] The coloration of these animals is often a combination of a brown underside and black on top running from the neck to the tail. The Polish Hound's voice is often described as resonant and pure [6] which makes it an ideal hunting dog. The Polish Hound matures slowly. Intelligent and easily trained, Polish Hounds are known to be calm, affectionate animals and great pets. Friendly with other breeds and very loyal, these dogs are also very protective of their land. It is unclear as to whether this breed makes a good guard dog. Many argue that its territorial nature makes it defensive against intruders, while other state that its passive nature renders it harmless to new people. Resilient to environment due to their origin of use, the Polish Hound acclimates quickly to new settings.
en.wikipedia.org/wiki/Polish_Greyhound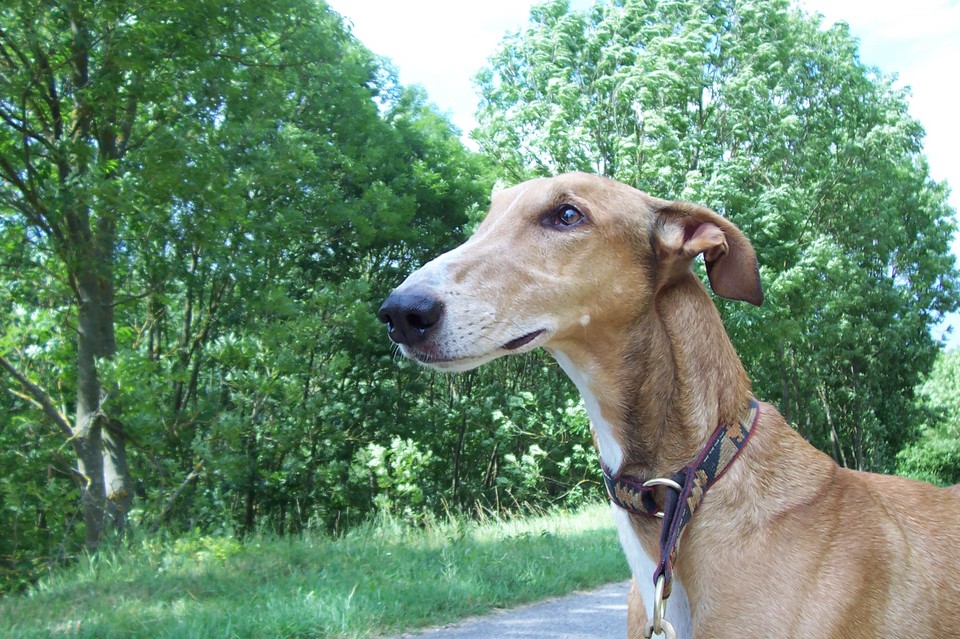 The Polish Greyhound (Polish: chart polski, pronounced [xart ˈpɔlskʲi]) is a Polish sighthound breed. It is known as the Polish Greyhound, although it is not a direct relative of the Greyhound dog.[1][2][3]

History
The first records about the existence of greyhounds in Poland come from the times of Gall Anonim.[4] 12th century [5] or 13th century[6] is considered the beginnings of the race's existence. Originally, these dogs were used for hunting birds - Great bustards. The Polish Greyhound was the favorite dog of the Polish nobility.[7] It is probably derived from Asian greyhounds, such as the Persian Greyhound (Saluki) [6] and Central Asian Greyhound (Tazy).

After World War II, breeding of this breed disappeared.[4] Hunting with greyhounds was forbidden, and greyhound dogs were liquidated. Their keeping and breeding has been covered with a special permit, this provision still applies. From the 70s of the twentieth century began to reproduce the breed. Contemporary Polish Greyhound breeding was started by Stanisław Czerniakowski, who bought two bitches - Taiga and Struska and one dog - Elbrus in the vicinity of Rostov-on-Don. From the association of Taiga and Elbrus the first litter of Polish greyhounds was born.[8]

In 1989, the breed was entered in the register of the Fédération Cynologique Internationale (FCI).

Appearance
Polish Greyhounds have short, smooth fur that comes in many colors. The coat is somewhat heavier than a Greyhound's. They have an undercoat that gets thicker in the winter. Polish Greyhounds have a long brush on the tail and have culottes at the rear of the thighs. The average Polish Greyhound weighs about 60 - 90 pounds, and ranges from 27–32 inches tall. The Chart Polski has a smooth double coat, regardless of season, which is harsh to the touch while offering excellent insulation. The breed is a persistent hunter, with a long muscular neck, unlike the greyhound, and the head is carried high. Large almond eyes are set in a slant, and the points of the hip bones are wide apart. The hind legs move closer together when the dog is moving at a short trot: this is called "lacing".[citation needed]




pl.wikipedia.org/wiki/Polski_spaniel_my%C5%9Bliwski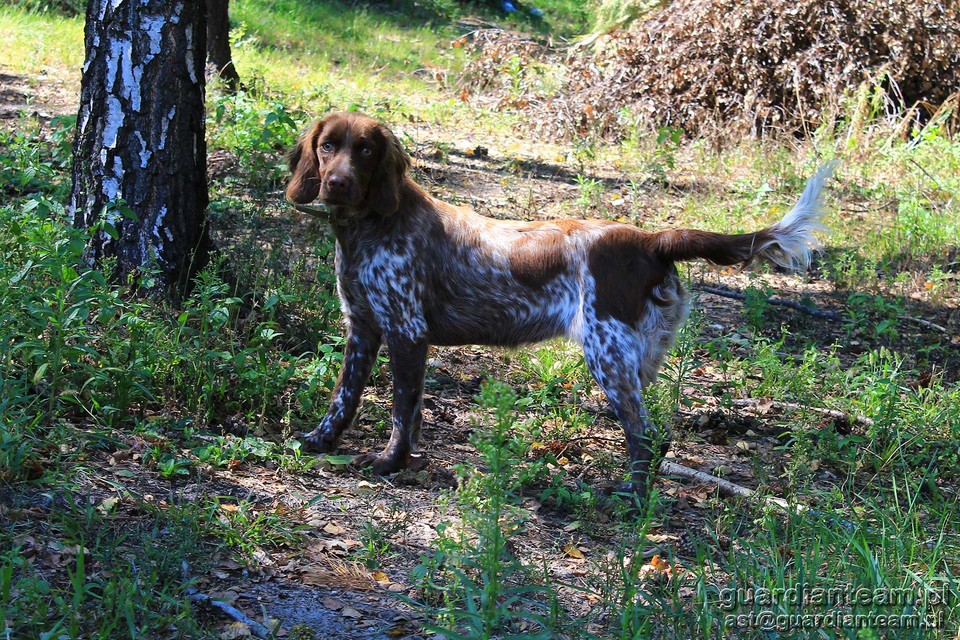 en.wikipedia.org/wiki/Polish_Lowland_Sheepdog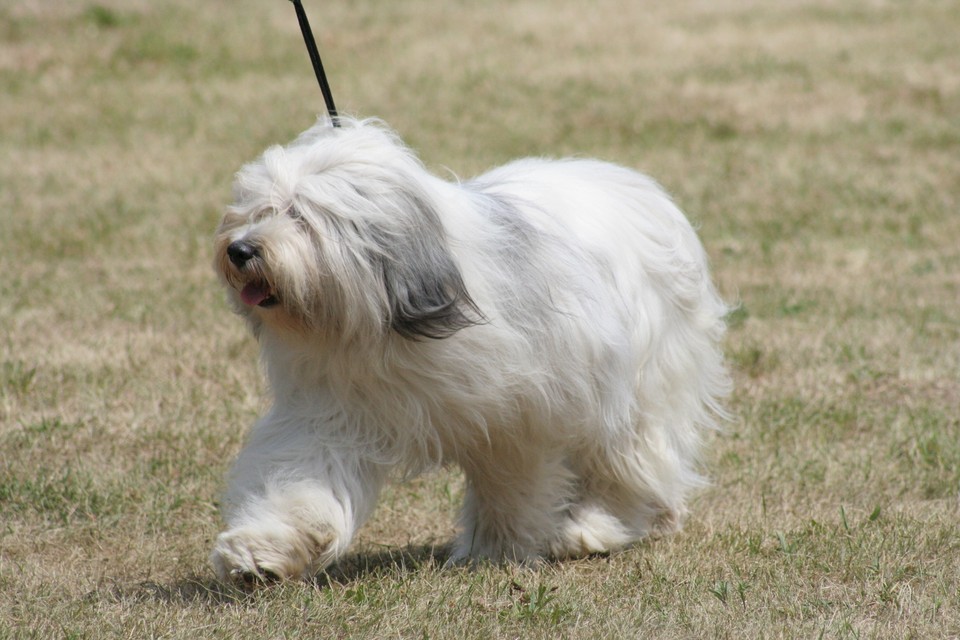 The Polish Lowland Sheepdog (Polish: Polski Owczarek Nizinny, also PON), is a medium-sized, shaggy-coated, sheep dog breed native to Poland.

Appearance
The PON is a muscular, thick-coated dog. The double coat can be of any color or pattern; white, gray, and brown are most common, with black, gray, or brown markings. It is common for colors to fade as the dogs reach adulthood. The undercoat is soft and dense, while the topcoat is rough and either straight or wavy, but not curly. The hair around the head makes the head appear to be larger than it actually is, and typically covers the eyes.

Males are 45 – 50 cm (18 - 20 inches) in height at the withers, while females are 42 – 47 cm (17 - 19 inches). Males typically weigh between 40 - 50 lb, females, 30 - 40 lb. The body is just off square, it appears rectangular due to the abundance of coat on the chest and rear; the ratio of the height to the body length should be 9:10 (a 45 cm tall dog should have a body 50 cm long). The tail is either very short or docked in the United States. European countries have banned docking for the most part and many PONs now have tails of varying lengths.

Temperament
Polish Lowland Sheepdogs are stable and self-confident. They have an excellent memory and can be well trained, but may dominate a weak-willed owner. PONs adapt well to various conditions, and are popular as companion dogs for apartment dwellers in their native Poland. PONs require a moderate amount of exercise daily.

Activities
The Polish Lowland Sheepdog can compete in dog agility trials, obedience, Rally obedience, showmanship, flyball, tracking, and herding events. Herding instincts and trainability can be measured at noncompetitive herding tests. PONs that exhibit basic herding instincts can be trained to compete in herding trials.[1]

Health
In general, PONs are a very healthy breed. Animals should be checked for hip dysplasia and checked for eye abnormalities such as PRA (Progressive Retinal Atrophy) before being used for breeding. PONs require a low protein diet. The life expectancy of a PON is approximately 12 years.

History
Known in its present form in Poland from at least the thirteenth century, the PON is most likely descended from the Puli, Tibetan Terrier[2] and the herding dogs.

Kazimierz Grabski, a Polish merchant, traded a shipment of grain for sheep in Scotland in 1515, and brought six PONs to move the sheep. A Scottish shepherd was so impressed with the herding ability of the dogs that he traded a ram and two ewes for a dog and two female dogs. These dogs were bred with the local Scottish dogs to produce the Scottish herding dogs, most obviously the Bearded Collie.

Almost driven to extinction in World War II, the PON was restored mainly through the work of Dr. Danuta Hryniewicz and her dog, Smok ("Dragon"), the ancestor of all PONs in the world today, who sired the first ten litters of PONs in the 1950s.

In fact, Dr. Hryniewicz considered Smok to be the epitome of the breed, with a perfect anatomical build and a wonderful temperament. Smok set the standard and type that was emulated by PON breeders for generations to come, and from which the first official standard for the PON was finally written, and accepted by the FCI, Fédération Cynologique Internationale, in 1959. He is considered to be the 'father' of the modern Polish Lowland Sheepdog. His moderate build lends itself to working effortlessly all day long, running with ease to herd the sheep. Pictures of Smok can be seen in the book, "The Official Book of the Polish Lowland Sheepdog".

The American Kennel Club recognized the Polish Lowland Sheepdog as a breed in the Herding Group in 2001.[3]