Post by Bonobo on Sept 1, 2010 19:33:19 GMT 1
Jarocin ([jaˈrɔt​͡ɕin] - German: Jarotschin) is a town in central Poland with 25,700 inhabitants (1995). Since 1999 Jarocin has been located in the Greater Poland Voivodeship, prior to that it was located in the Kalisz Voivodeship (1975–1998).
The town became famous in the 1980s thanks to the Jarocin Festival, one of the first rock and punk music festivals in communist Eastern Bloc countries. The first one was organised in 1980.
Though communist rulers were dictators who suppressed any individual thought to avoid liberalization and democracy, they had to make some concessions to let some steam off, so to say. If they didn`t, the society would rise in protests every year, instead of several.
One of the examples of how communists closed an eye was Rock Festival in Jarocin. There were such festivals in the world then and before and Jarocin was nothing special to an average fan from Western Europe. But the fact that it was in a Warsaw Pact country made it unique. The freedom that the youth enjoyed during the festival was legendary. Rock fans from other communist countries, like Czechoslovakia, who were allowed to visit Poland (ban on visits from the communist block because of the Polish Solidarity "disease) couldn`t believe their eyes. They saw things which were impossible in their countries at the time. In 1986 the group Immanuel sang: "We don`t need CIA, we don`t need PZPR (communist party)" and the audience joined happily. The group was fined by court afterwards.
I never went to Jarocin though I loved rock. Actually, I didn`t go to too many concerts in my life. I feel uneasy in big crowds of people and the music played on the stage is so crude and "dirty" that the occasions when I went to concerts were always disappointment....
en.wikipedia.org/wiki/Jarocin_Festival

Jarocin Festival was one of biggest and most important rock music festivals in the 1980s Europe, by far the biggest festival of alternative music in the Warsaw Pact countries.

Founded in 1980, had been based on the earlier Wielkopolskie Rytmy Mlodych (Greater Poland's Rhythms of the Youth), which had been organized in Jarocin since 1971. In 1980, due to Walter Chelstowski's initiative, its name was changed to Ogolnopolski Przeglad Muzyki Mlodej Generacji w Jarocinie (All-Polish Review of Music of Young Generation in Jarocin) and subsequently, musicians and bands from the whole country were invited. Later on, its name was changed again - to Festiwal Muzykow Rockowych (Rock Musicians' Festival).

Jarocin's Festival was generally based in its organization and atmosphere on famous American Woodstock Festival, thus it sometimes was called the Polish Woodstock. In the 1980s it was regarded as some kind of a springboard from drab, poor reality of late-Communist Poland. It lasted for 3 days, usually at the beginning of August. The Festival attracted thousands of fans (e.g. in 1986 there were more than 30 000 of them), who lived in tents and came to listen to music which was otherwise hardly (or never) played in Polish radio and TV. Still, many believe that Jarocin was a design of Communist secret services, which created a "safety outlet" for restless Polish youth.

Music that was played during the Festival's 3 days differed, but generally it was "alternative" - blues, rock, heavy metal, punk rock, reggae. Bands played on two stages, with the bigger one located on local soccer pitch. Interesting was the fact that several fans brought with them tape recorders and during concerts, held them above their heads. This was the only chance to record and distribute music unwanted by official mass-media.

Jarocin Festival lost its message and kick since early 1990, after the collapse of the Communist system in Poland. Even though fans would still come, it was not like it had been before. New generation of listeners was also more aggressive and in 1994, after riots and clashes with police, it was suspended. Later on, local government tried to revive it, but with little success.

Among most popular bands that played or debuted in Jarocin, there are:

* Dżem
* TSA
* Armia
* Dezerter
* Kult
* Brygada Kryzys
* Sztywny Pal Azji
* Acid Drinkers
* New Model Army
* Therapy
* Babayaga Ojo
* Feeling B

Looking at the photos, remember it was in a country where Big Brother ruled. In theory at least.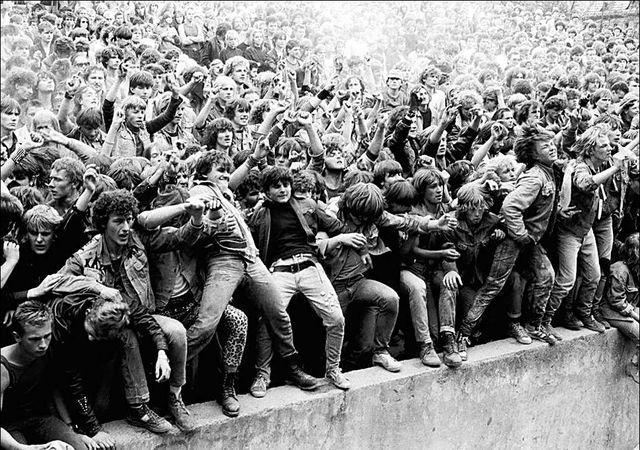 Fans are dancing pogo
Tufta, this is specially for you, because I am not a fan of this group. Not rocking enough!
Some groups had very funny names, even shocking ones at that time:
Bombed Doll
Moscow:
Axe:
Brain Defect
Captain Kloss` Children
Clinic Death
Toilet
WC