Post by Bonobo on Apr 1, 2008 23:01:22 GMT 1
Facts, in short.
Germans seemed weak in summer 1944, they retreated through Warsaw on horse carts, broken, tired and scared shitless after a relentless Soviet offensive which reached the city on the right side of the Wis³a River.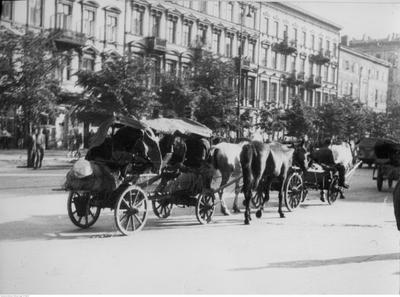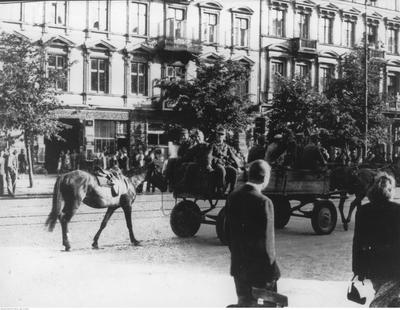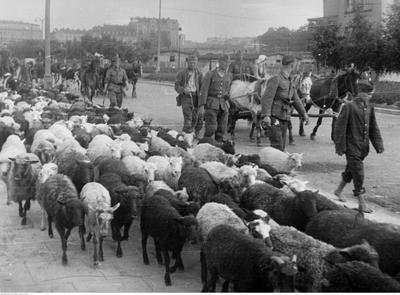 Warsawians and underground resistance couldn`t believe their eyes - the German army dispersed and in retreat. Everybody (except for a few sceptics) believed that it was possible to throw Germans out of the city after a few day fighting and welcome the entering Soviets in the Polish capital by the Polish independent government.
That was a major mistake. Germans weren`t so weak as they seemed, what is more, they still fought on all fronts with incredible fanaticism.
Fighting broke on 1 August. A few dozen thousand resistant soldiers (mainly from AK but other resistant groups joined too) were armed in light weapons, and only 10% of them were armed at all.
Despite that, and due to unbelievable heroism and bravery, Poles managed to liberate most parts of the left bank districts.
However, major points like Okêcie Airport or bridges across the river were not taken by insurgents.
Enthusiastic residents of Warsaw joined the Rising unanimously - they provided fighters with food and water, built barricades, corridors through houses, prepared equipment for fighting fires etc. After 5 years of brutal occupation during which 600.000 Warsawians lost their lives (including 350.000 Jews), Warsaw was Polish again!
Children joined too. Maybe not so many as the popular myth about kid fighters goes, but there were as young as 12 year old insurgents.
KIA of the Rising
After initial successes, the situation got worse. Germans brought a few police units, most of them consisted of various scumbags (criminals) or collaborators from the East.
Instead of fighting insurgents, they went on a murdering spree - in Wola district, about 50.000 Polish civilians were executed in early August, in Ochota - about 10.000. Mokotów - a few thousand. And in many other places all over Warsaw.
en.wikipedia.org/wiki/Wola_massacre
en.wikipedia.org/wiki/Ochota_massacre
pl.wikipedia.org/wiki/Pacyfikacja_Mokotowa

Kaminski volunteers were first given the task of clearing the Ochota district defended by only 300 poorly-armed Poles. Their attack was planned for the morning of August 5, but when the time came, Kaminski's men could not be found. After some searching, they were found looting abandoned houses in the rear. The attack finally got underway shortly before noon and it went poorly, with the brigade advancing only 275 meters before nightfall. The men had neither training for nor prior experience in urban combat. For many it was the first time they had even seen a major city and they fought poorly while suffering high casualties. At the same time, thousands of Polish civilians were killed by the RONA SS men during the events known as the Ochota massacre; many of the victims were also raped. In the middle of the month, the Kaminski was moved south to the Wola sector, but it fared no better in combat there than in Ochota. In one incident, a sub-unit had stopped their advance to loot a captured building on the front line and was consequently cut off and destroyed by the Poles.
By August 27, the German commanders decided the brigade was too undisciplined and unreliable. In almost a month of fighting, the brigade had still not achieved any of its major objectives. The German commander in Warsaw, SS-Obergruppenführer Erich von dem Bach-Zelewski, stated in post war trials that the unit "had no military combat value whatsoever, with both officers and soldiers having not even a hint of tactical understanding. "I saw Kaminski's men removing entire cartloads of stolen jewelery, gold watches, and precious stones. The capture of a liquor supply was more important for the brigade than the seizure of a position commanding the same street. Each assault was instantly stopped, because after taking the objective over, units dispersed into loose, plundering hordes." Kaminski himself was involved in the looting in Warsaw, claiming he was collecting for his "Russian Liberation Fund". Major General Günter Rohr, commander of Warsaw's southern sector, demanded that the brigade be removed from his command. Bach-Zelewski agreed, as the troublesome unit was slowing his efforts to suppress the uprising. As soon as replacement units were available, the Kaminski was pulled out of the line after losing about 500 men in combat during the fighting in Warsaw.
Germans shelled and bombed Warsaw with everything they had, especially artillery (rocket launchers)
and Stuka diving bombers
New types of weapons were tested: giant mortar Tor whose shell literally wiped houses from the surface,
or Goliath explosive carrier to blow up barricades and fortified builduings.
The Soviets stopped their offensive and didn`t intend to cross the river. Reasons - to be discussed. What is worse, initially they refused to host the shuttle flights with supplies for insurgents from Western Allies - the air drops took place too late to change anything.
Despite ferocious defence of Warsaw fighters, who fought for every house and street with incredible sacrifice, often hand to hand,
the liberated territory was shrinking.
Thousands of insurgents and civilians died in fighting, in German executions, fires, destroyed houses. They lacked food and water. Also ammo slowly finished. Germans murdered wounded soldiers and medical personnel in military hospitals. Women and girls were raped on a mass scale. Warsaw changed into hell.
In mid September Germans replaced police units with regular front units, including tank divisions, which made short work with insurgents.
The situation was hopeless, so after 63 days of heroic fight, Warsaw capitulated.
From 120.000 to 200.000 civilians died, about 18.000 insurgents were killed in action or executions. 25% of left-bank Warsaw was destroyed in the Rising, next 35% afterwards. With 10% destruction from 1939 and 10% of Ghetto area razed to the ground, literally, Warsaw practically ceased to exist.
A long wall with AK soldiers` names