Post by Bonobo on Oct 9, 2016 14:19:16 GMT 1
International violin competition opening in Poland
08.10.2016 10:00
Poland's Krzysztof Penderecki will conduct a concert to open the 15th International Henryk Wieniawski Violin Competition in Poznań, western Poland, on Saturday night.
Penderecki will conduct German orchestra Die Deutsche Kammerphilharmonie Bremen's gala concert.
South Korea's Soyoung Yoon, the 2011 winner of the event, will appear as the soloist in Beethoven's Violin Concerto in D major.
Forty-eight violinists from 17 countries, including the United States, Canada, Ukraine, Israel, Georgia, Russia, New Zealand, China, Japan and Poland, will begin first-round auditions on Sunday.
They were selected from 250 candidates by famous violin virtuoso and conductor Maxim Vengerov, who chairs the competition jury, in preliminary auditions held in Poland, Canada, Japan and Switzerland.
Prizewinners' names will be announced on 22 October.
Held for the first time in Warsaw in 1935, the Wieniawski Competition is the world's oldest violin competition. It moved to Poznań after a lapse of 17 years and has been held in that city every five years since 1952.
Its past prizewinners include Ginette Neveu, David Oistrakh, Ida Haendel, Grażyna Bacewicz and Agata Szymczewska.
Henryk Wieniawski (1835-1880) is regarded as one of the world's greatest violinists after Paganini. His compositional output includes two violin concertos, mazurkas, polonaises, etudes and caprices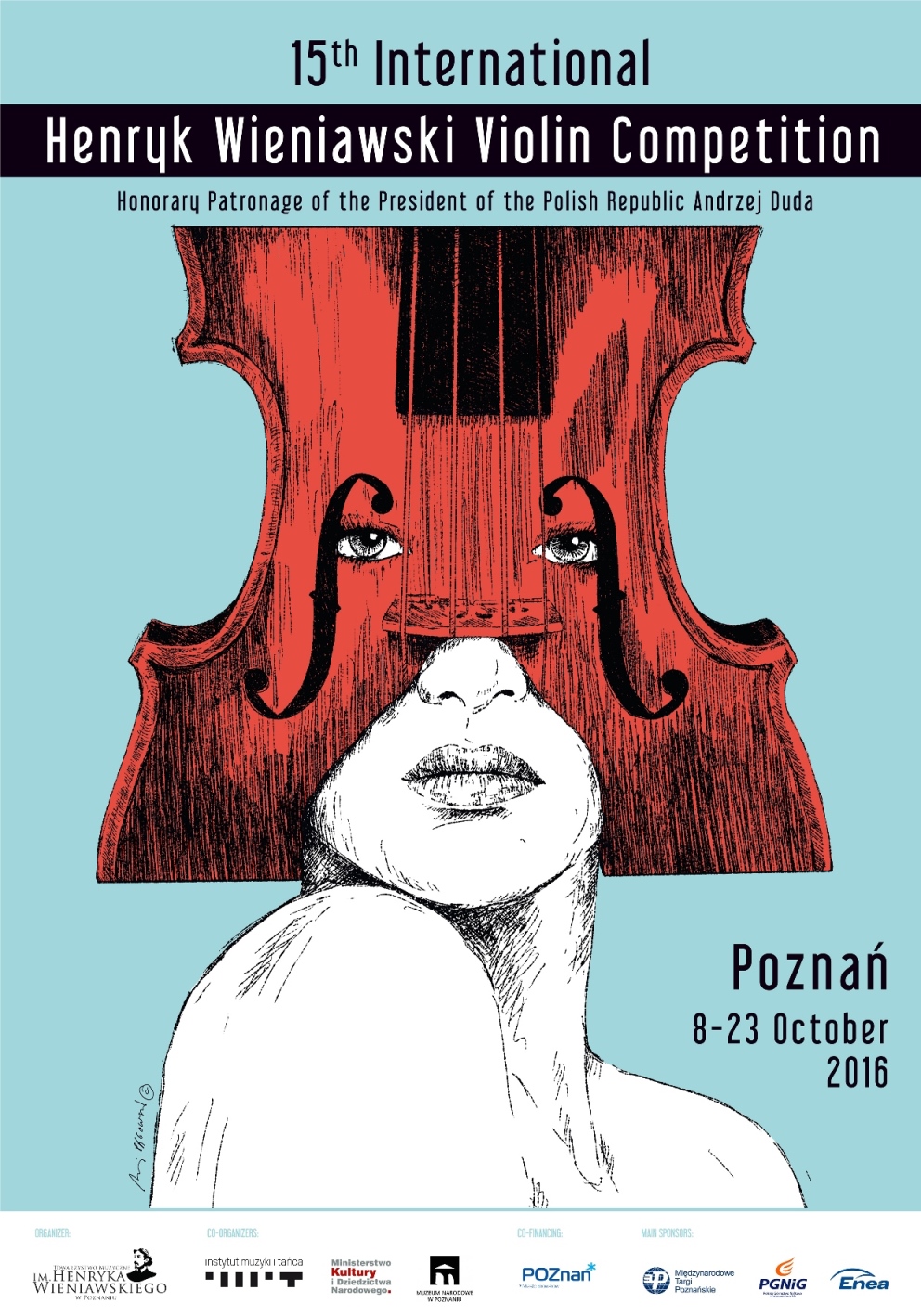 en.wikipedia.org/wiki/Henryk_Wieniawski

Works

Henryk Wieniawski was considered a violinist of great ability and wrote some very important works in the violin repertoire, including two technically demanding violin concertos, the second of which (in D minor, 1862) is more often performed than the first (in F-sharp minor, 1853). His L'École moderne: 10 Études-caprices is a very well known work for aspiring violinists. His Scherzo-Tarantelle, Op.16 and Légende, Op.17 are also frequently performed works. He also wrote two popular mazurkas for solo violin and piano accompaniment (the second one, Obertas, in G major), using techniques such as left-hand pizzicato, harmonics, large leaps, and many double stops.
Legacy

Wieniawski was given a number of posthumous honours. His portrait appeared on a postage stamp of Poland in 1952 and again in 1957. A 100 złoty coin was issued in 1979 bearing his image.

What is commonly called the "Russian bow grip" is sometimes called the "Wieniawski bow grip", as Wieniawski taught his students his own kind of very rigid bowing technique (like the Russian grip) that allowed him to play what he called a "devil's staccato" with ease. This "devil's staccato" was used to discipline students' technique.[clarification needed]

The first violin competition named after Wieniawski took place in Warsaw in 1935. Ginette Neveu took first prize, David Oistrakh second, and Henri Temianka third. The International Henryk Wieniawski Violin Competition has been held every five years since 1952.