Post by Bonobo on Jan 29, 2019 1:01:32 GMT 1
I was taken to light and serious plays as early as a small boy. I hated it because my mum made me wear a light blue suit which I detested, contrary to my aunts and uncles who were always enthusiastic seeing me in it. They said that I looked like a small American boy. Yes, indeed, later on I saw such a suit in the film Smokey and the Bandit with Burt Reynolds, and the actor who wears it is really small.
Light plays were foreign or Polish classic comedies like The Revenge or Figaro`s Wedding. The audience
laughed, so I laughed, too. I vaguely remember I could only enjoy the atmosphere but wasn`t able to catch
all sophisticated allusions. Besides, the language of those old plays was a bit too old fashioned for my
perception.
en.wikipedia.org/wiki/Zemsta

Zemsta (Revenge) is a Polish comedy by Aleksander Fredro, a Polish poet, playwright and author active during
Polish Romanticism in the period of partitions. Zemsta belongs to the canon of Polish literature.[1] It is a
play in four acts, written in the octosyllabic verse mostly in the vernacular of Lesser Poland (Małopolska);
filled with proverbs and paraphrased allusions.[2]
en.wikipedia.org/wiki/The_Marriage_of_Figaro

The Marriage of Figaro (Italian: Le nozze di Figaro, pronounced [le ˈnɔttse di ˈfiːɡaro]), K. 492, is an

opera buffa (comic opera) in four acts composed in 1786 by Wolfgang Amadeus Mozart, with an Italian libretto

written by Lorenzo Da Ponte. It premiered at the Burgtheater in Vienna on 1 May 1786. The opera's libretto is

based on a stage comedy by Pierre Beaumarchais, La folle journée, ou le Mariage de Figaro ("The Mad Day, or

The Marriage of Figaro"), which was first performed in 1784. It tells how the servants Figaro and Susanna

succeed in getting married, foiling the efforts of their philandering employer Count Almaviva to seduce

Susanna and teaching him a lesson in fidelity.

The opera is a cornerstone of the repertoire and appears consistently among the top ten in the Operabase list

of most frequently performed operas.[1]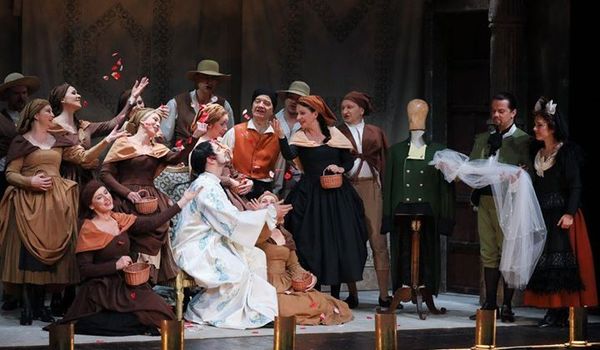 Courteous Man Courting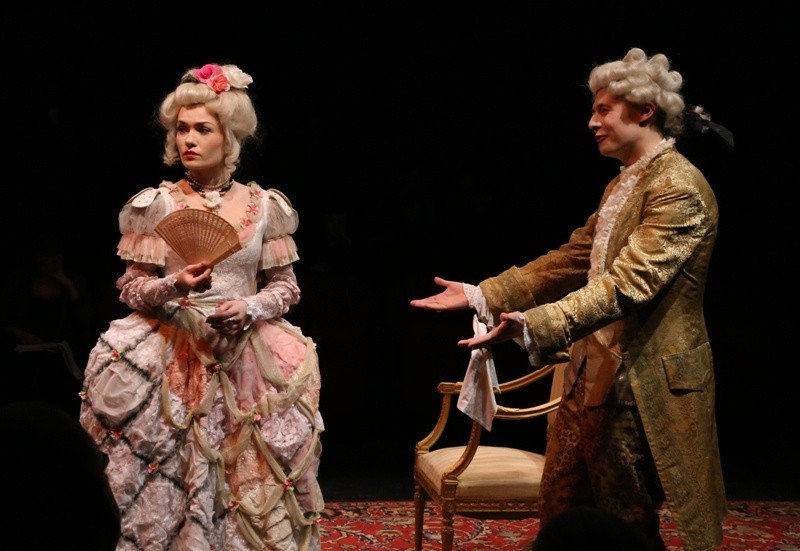 The serious plays were much more difficult. I hardly remember Demons by Dostojewski, only one scene from it,
to which my parents told me to pay special attention, with Polish noblemen receiving money from the Russian
tsar for their services.
en.wikipedia.org/wiki/Demons_(Dostoevsky_novel)

Demons (pre-reform Russian: Бѣсы; post-reform Russian: Бесы, tr. Bésy; sometimes also called The Possessed or

The Devils) is a novel by Fyodor Dostoevsky, first published in the journal The Russian Messenger in 1871–2.

It is considered one of the four masterworks written by Dostoevsky after his return from Siberian exile,

along with Crime and Punishment (1866), The Idiot (1869) and The Brothers Karamazov (1880). Demons is a

social and political satire, a psychological drama, and large scale tragedy. Joyce Carol Oates has described

it as "Dostoevsky's most confused and violent novel, and his most satisfactorily 'tragic' work."[1] According

to Ronald Hingley, it is Dostoevsky's "greatest onslaught on Nihilism", and "one of humanity's most

impressive achievements—perhaps even its supreme achievement—in the art of prose fiction."[2]

Demons is an allegory of the potentially catastrophic consequences of the political and moral nihilism that

were becoming prevalent in Russia in the 1860s. A fictional town descends into chaos as it becomes the focal

point of an attempted revolution, orchestrated by master conspirator Pyotr Verkhovensky. The mysterious

aristocratic figure of Nikolai Stavrogin—Verkhovensky's counterpart in the moral sphere—dominates the book,

exercising an extraordinary influence over the hearts and minds of almost all the other characters. The

idealistic, western-influenced generation of the 1840s, epitomized in the character of Stepan Verkhovensky

(who is both Pyotr Verkhovensky's father and Nikolai Stavrogin's childhood teacher), are presented as the

unconscious progenitors and helpless accomplices of the 'demonic' forces that take possession of the town.

I remember Dziady much better, probably because I had to read it in high school. But the scene with calling
dead people`s ghosts was especially grim, the ghosts were flyingh in the misty air above us and they cried a
lot, so I was really scared.
en.wikipedia.org/wiki/Dziady_(poem)

Dziady (Polish pronunciation: [ˈdʑadɨ], Forefathers' Eve) is a poetic drama by the Polish poet Adam

Mickiewicz. It is considered one of the greatest works of both Polish and European Romanticism.[1][2][3] To

George Sand and Georg Brandes, Dziady was a supreme realization of Romantic drama theory, to be ranked with

such works as Goethe's Faust and Byron's Manfred.[3]

The drama's title refers to Dziady, an ancient Slavic and Lithuanian feast commemorating the dead (the

"forefathers"). The drama has four parts, the first of which was never finished. Parts I, II and IV were

influenced by Gothic fiction and Byron's poetry. Part III joins historiosophical and individual visions of

pain and annexation, especially under the 18th-century partitions of Poland. Part III was written ten years

after the others and differs greatly from them. The first to have been composed is "Dziady, Part II,"

dedicated chiefly to the Dziady Slavic feast of commemoration of the dead which laid the foundations of the

poem and is celebrated in what is now Belarus.[4]

A ban on the performance of the play was an aspect of the 1968 Polish political crisis.
There were many more plays and they all led to one conclusion - when adult, I stopped going to the theatre on my own because I had had enough in my childhood. I only went to it on school trips.