Post by pjotr on Jan 12, 2020 5:21:17 GMT 1 In such moments, don`t you regret that the Netherland has kept open borders for immigrants? In another forum a member claimed that crime by migrants is fully avoidable - just ban them entirely from our country and the crime rate will drop substantially.
Bo,
I have to say that the violence and aggression comes from both native Dutch (sorry for my bad words) white trash/trailer trash, worthless, lazy, blood sucking, extremely annoying, useless, terrible, spoiled, completely anti-social alcoholic, hard drugs (cocaine & speed) and soft drugs (Cannabis) using idiots, next to migrant youths and young males.
I don't defend migrants or refugees here, but also want to be honest. You have some terrible, annoying, irritating, bad Moroccan, Turkish, Dutch Antillian and Surinamese kids and young men too, but they are the minority of our population and they are a part of the problem. We have to fact the fact that we have terrible compatriots, white native Dutch (West Germanic) European compatriots too, from families with roots in the Netherlands that go hundreds of years back.
The violence, aggression, lack of respect for the fire fighters, medics, ambulance drivers and police officers who often risk their lives to save people under difficult situations with accidents, car crashes, burning buildings and large fights between groups and deal with extreme groups like violent soccer hooligans, violent motor gangs (Hells Angels, Nomads, Bandidos), bad neighbourhoods, worker riots, harbour workers riots, angry farmers, Dutch and foreign criminals from abroad, family drama's (suiicides, murders, accidents with deadly consequences, heavily wounded people they found in houses) and young victims of physical or sexual abuse or car, moped, bycicle or playing accidents.
These people who help civilians who are in dire need, because they are heavily wounded, dying or have a dead loved one or relative, these people are attacked by the civilians that they serve and help. It is abnormal, insane, uncivilized, crual, stupid and strange behaviour.
Again I say Bo, Dutch police officers in villages, small towns and city neighbourhoods are also attacked by drunken and drugged native Dutch (West Germanic) crowds of young pupilst, students, working youth and unemployed youth. Blond, blue eyed, tall build Dutch boys and young men. In other cases there are dark Moroccan, Turkish, Dutch Antillian or other ethnic groups involved and in some cases there are groups of mixed Native Dutch and Migrant people that attack the police, fire fighters and medics.
This has to stop and probably will stop, because police officers, fire fighters, medics, mayors of towns and villages, judges, and government officials of the ministry of Internal affairs and justice are fed up with it. And in extreme cases the Dutch government can employ the Dutch military police, the Royal Netherlands Marechaussee, or special police forces that are made of Dutch Marines. I don't think we should go that way. Because these guys are trained for war and heavy combat. They will be less patient than the ordinary police.
Look for your self.
The are by the way excellent police commanders, police officers and mayors (Rotterdam and my own city Arnhem) of migrant background, who are tough on crime, tough against Islamist Jihadists, tough against Hooligans and tough against anti-social behaviour of both migrants and native Dutch people. Some people say, the Moroccan mayors from Arnhem and Rotterdam are more tough against Moroccan migrant thugs than native Dutch mayors. Our excellent Dutch Moroccan mayor (Labour party) is a former Amsterdam police officer and a former member of the House of Representatives in The Hague (Den Haag). Ahmed Marcouch is an excellent mayor Bo.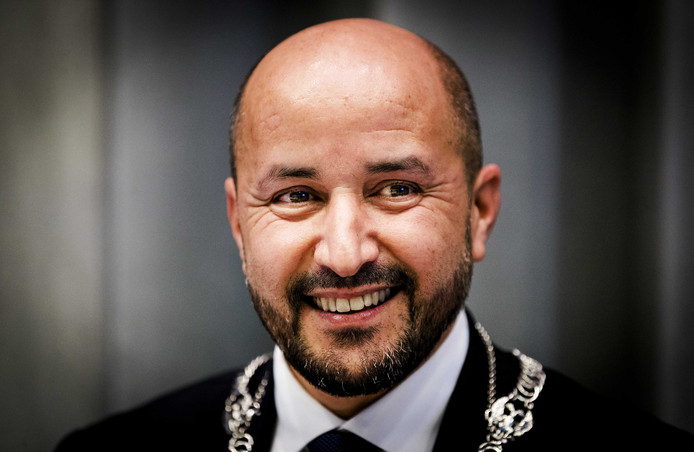 Ahmed Marcouch, the mayor of Arnhem, is tough on crime, Salafism (extremist islam), against Jihadists from Arnhem who went to Syria to fight (he don't want them back in Arnhem, or heavily monitored in a maximum risk, heavily guarded prison) and he wants civilization and not barbarism like we saw on 31 december 2019 and 1 januari 2020. The major adressed during the New Years gathering speech the tragical death of the father and son in that elevator in that Arnhem apartment building in Arnhem South and he said that it was intolerable that police officers, medics from ambulances and fire fighters are attacked by anti-social thugs. He said that that is unaccaptable and will not be tolerated anymore. He also said that people will be held accountable for their actions. Many of these thugs will be visited by the police. The Police has camera images, and the thugs wil face criminal charges. I heavy cases of miscoduct, violence against police officers, fire fighters and medics these people will go to prison. It can take weeks or a few months but they will find these chaps. And they will probably regret that they did what they did. Because attempted murder is a heavy offence. Throwing a molotov cocktail, fire bombs, explosives and heavy fire work to police officer is considered as an assault with intent to kill. Because police officers were heavily wounded the authorities are very keen on finding, arresting and putting the perpetrators in prison.
Thugs are thugs whether they native Dutch West Germanic with blue eyes and blond hair or whether they are Moroccans with brown tinted skins, dark eyes and curley black hair. Both are a pain in the ass, both are useless bums and should be dealt with accordingly.

Royal Netherlands MarechausseeThe Dutch Grom, DSI (Dienst Speciale Interventies; English: Special Interventions Service)
Cheers,
Pieter