Post by Bonobo on May 30, 2010 15:21:34 GMT 1

The Warsaw Voice » Other » Monthly - April 7, 2010

Poland's Biggest Fort

M.M. By M.M.


Modlin, a district of the city of Nowy Dwór Mazowiecki, is home to Poland's largest fort. It has seen many wars, including a Napoleonic campaign.
From a bird's eye view, the Modlin fort is like a Russian doll: the inner fort forming the core of the stronghold is surrounded by an extensive outer part, and further out still are two rings of forts. The huge fortified complex was built here due to the strategic location of Modlin at the meeting point of the Narew and Vistula rivers. Its present form is the result of the work and technical contribution of Poles, Frenchmen, Russians and Germans.
Napoleon ordered the stronghold to be built here, and construction began in 1806. Work continued until 1812 and then, after Napoleon's defeat, the garrison of Modlin defended itself against the Russians for almost another year. The oldest surviving part of the fortifications is Napoleon's Redoubt on the outer stronghold. The battery emplacement with a square design was devised by the emperor himself.
Further development of the stronghold was carried out by the czarist authorities. The outer bastions and battery emplacements were built after the fall of the November Uprising in 1831 and gates were placed in the walls of the inner perimeter. The next period of expansion came after 1864. Fortified barracks surrounding the inner stronghold were built. At 2,300 meters, this is considered the longest building in Europe. An outer ring of 10 forts was added in 1912-14, forming a circle almost 50 km in circumference.
It is best to see Modlin with a guide, who will take you to some nooks that are otherwise inaccessible. One of the stronghold's most valuable historic sites, the Daehn battery emplacement, houses a museum devoted to the stronghold and the September campaign of 1939. The exhibition features unique historical photos and Polish and German equipment and weapons. Sightseers can also visit the Garrison Club, a building from the turn of the century that has a neo-Gothic exterior and an eclectic interior. Among other things, it houses a concert hall with stucco work on the walls and ceiling. Apart from military sites, a trip to Modlin offers the added attraction of the panorama that visitors can take in from the Tatar Tower and a trip to the vaults where bats have made themselves at home.
In an initiative by the Modlin Fort Military Park, markets for buying and selling military items are held in the stronghold as well as off-road and military vehicle rallies and reenactments of events from the history of Modlin.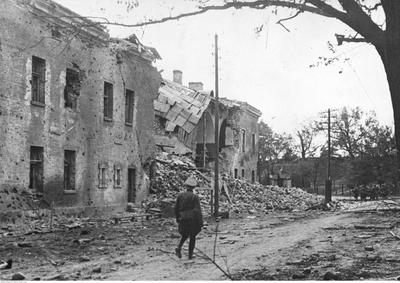 violarzeszot.w.interia.pl/NDM26.jpg