Post by Bonobo on Feb 10, 2013 20:02:13 GMT 1
There was a king who once resigned from the Polish throne. Allegedly, because a more attractive post was waiting for him somewhere else. But in reality, the main reason was his old ugly Polish queen, 30 years older than him.
In 1573, following the death of the Polish ruler Sigisimund III Augustus, a French envoy was sent to Poland to negotiate the election of Henry of Valois, future Henry III of France, on the Polish throne, in exchange for military support against Russia, diplomatic assistance in dealing with the Ottoman Empire and financial help. On 16 May 1573 Polish nobles elected Henry, as the first elected monarch of the Polish-Lithuania Commonwealth.
Most of Henry's reign was spent traveling to the country following the election. On May 30, 1574, King Charles IX of France died without an issue leaving the throne to his brother, Henry. Almost immediately he departed, sparking a constitutional crisis within Poland-Lithuania.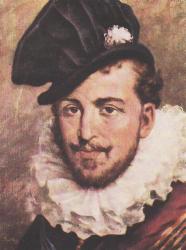 In 1573 he was elected king of Poland, a kingdom unusual at the time for its culture of religious toleration. To be acceptable to his Polish subjects, Henry abandoned the extreme Catholic line he had so far pursued. He also seems to have lost interest in military matters. He travelled to Poland with an entourage, but during the summer of 1574 he was informed of the death of his brother, Charles IX. He thus became king of both France and Poland.
Without so much as bidding adieu to his Polish subjects, Henry made haste to return to France by way of Austria and northern Italy.

Historians love to describe the clash of cultures:

The short reign of Henry at Wawel Castle in Poland was marked by a clash of cultures between the Polish and the French. The young king and his followers were astonished by several Polish practices and disappointed by the rural poverty and harsh climate of the country.[16] The Polish, on the other hand, wondered if all Frenchmen were as concerned with their appearance as their new King appeared to be.[16]
In many aspects, Polish culture had a positive influence on France. At Wawel, the French were introduced to new methods of septic facilities, in which litter (excrement) was taken outside the castle walls.[19] On returning to France, Henry ordered the construction of such facilities at the Louvre and other palaces.[19] Other inventions introduced to the French by the Polish included a bath with regulated hot and cold water and the fork.[20][21]
In 1578 Henry created the Order of the Holy Spirit to commemorate his becoming first King of Poland and later King of France on the Feast of Pentecost and gave it precedence over the earlier Order of St. Michael, which had lost much of its original prestige through its having been awarded too frequently and too readily. The Order would retain its prestige as the premier order of France until the end of the French monarchy.
en.wikipedia.org/wiki/Henry_III_of_France
King`s escape