Post by Bonobo on May 31, 2008 22:18:20 GMT 1
Beksiński was one of the most renowned contemporary Polish artists. His paintings are very popular and require buyers to have thick wallets.
Zdzisław Beksiński (24 February 1929 – 22 February 2005) was a renowned Polish painter and photographer. A Beksiński painting contained elements of surrealism, the post-apocalyptic and immense attention to detail. Despite the grim overtones, he claimed some of these paintings were misunderstood, as they were rather optimistic, or even humouristic. His exhibitions almost always proved very successful. A prestigious exhibition in Warsaw in 1964 proved to be his first major success, as all his paintings were sold. In the 1980s his works gained on popularity in France and he gained significant popularity in Western Europe, the USA and Japan. He soon became the leading figure in contemporary Polish art.
www.belvederegallery.com/artist_more.php?id=2
en.wikipedia.org/wiki/Zdzis%C5%82aw_Beksi%C5%84ski

Curiosities
# Beksiński's art was gloomy and grim, though he himself was known to be a pleasant person, and though somewhat shy, took enjoyment from conversation.
# He never gave titles to his works.
# He painted his paintings on boards which he personally prepared.
# He listened to classical music while painting and abhorred silence.
# His son was a great fan of the band The Legendary Pink Dots. After his son's suicide the bands albums' Polish editions and reissues were graced by Beksińki's digital art employed as covers, dedicated to the memory of Tomasz Beksiński.
# It is often rumored that his disturbing works are depictions of things he saw in a comatose state[citation needed]. However, Beksiński never suffered from a coma.
# He is the only modern Polish artist to have had an exhibition in the Osaka Museum of Art in Japan.
# He almost never visited museums or exhibitions. The last time he went to the museum was in October 2004 with Lukasz Banach [1] - a young painter and Valdemar R. Plusa - his agent from Toronto, Canada - owner of Belvedere Gallery


His art:
html.beksinski.com.pl/Kultowe_Dzie%C5%82a.html
www.google.pl/search?gs_rn=14&gs_ri=psy-ab&cp=4&gs_id=2q&xhr=t&q=beksi%C5%84ski&bav=on.2
,or.r_qf.&bvm=bv.47008514,d.ZWU&biw=1280&bih=684&um=1&ie=UTF-8&hl=pl&tbm=isch&source=og&sa=N&tab=wi&ei=86KjUdjYHoHePfqigYAM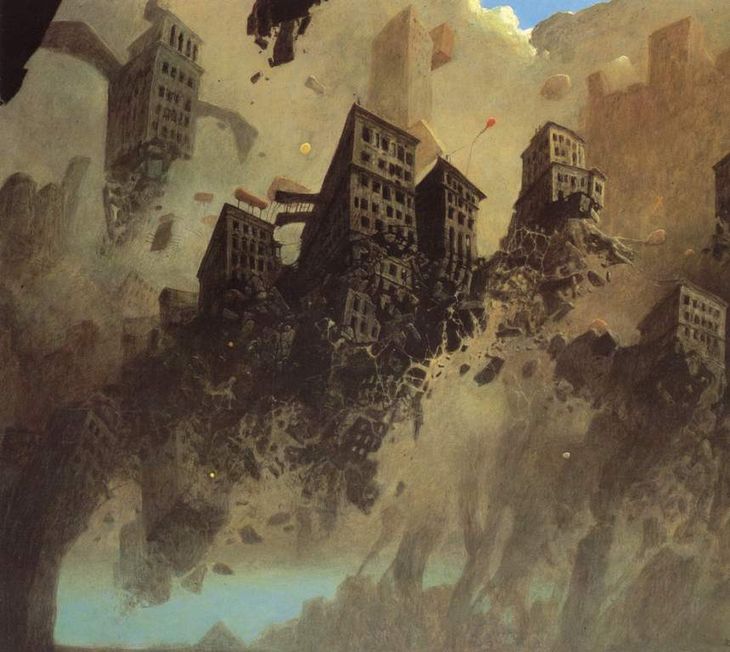 I don`t know if I would like to keep them in my house even I got them for free.
They are too morbid.