Post by Bonobo on Feb 10, 2010 21:29:13 GMT 1
www.thenews.pl/national/artykul125369_poles-celebrate-regaining-of-baltic-access.html
Poles celebrate regaining of Baltic access
10.02.2010 14:36

Celebrations of the 90th anniversary of Maritime nuptials continue in the coastal town of Puck and Gdynia.

On 10 February 1920 general Jozef Heller, the commander in chief of the Maritime Front, threw a ring into the Baltic as a sign of the return of Poland to the Baltic Sea.

The ceremonies in Gdynia are attended by President Lech Kaczynski and Parliamentary Speaker Bronislaw Komorowski.

Mr. Kaczynski said that the Baltic is the pride of Poland and everything should be done to improve the economic situation along the coast, saying that "[today's] maritime economy is not in good condition," he said. "The shipbuilding industry which developed so fruitfully after World War II is in a very difficult situation. That is why we should fight to benefit from what the Baltic sea has to offer."

Poland regained access to the Baltic following the Versailles Treaty of 1919. It was a 140 kilometre stretch of the coast.

After the ratification of the Treaty by Germany, Polish troops led by General Heller began taking over of the region. Maritime Nuptials were held in Puck and the next day repeated in the town of Wladyslawowo.
www.zgapa.pl/zgapedia/data_pictures/_uploads_wiki/p/Puck_miejsce_zaslubin_z_morzem.JPG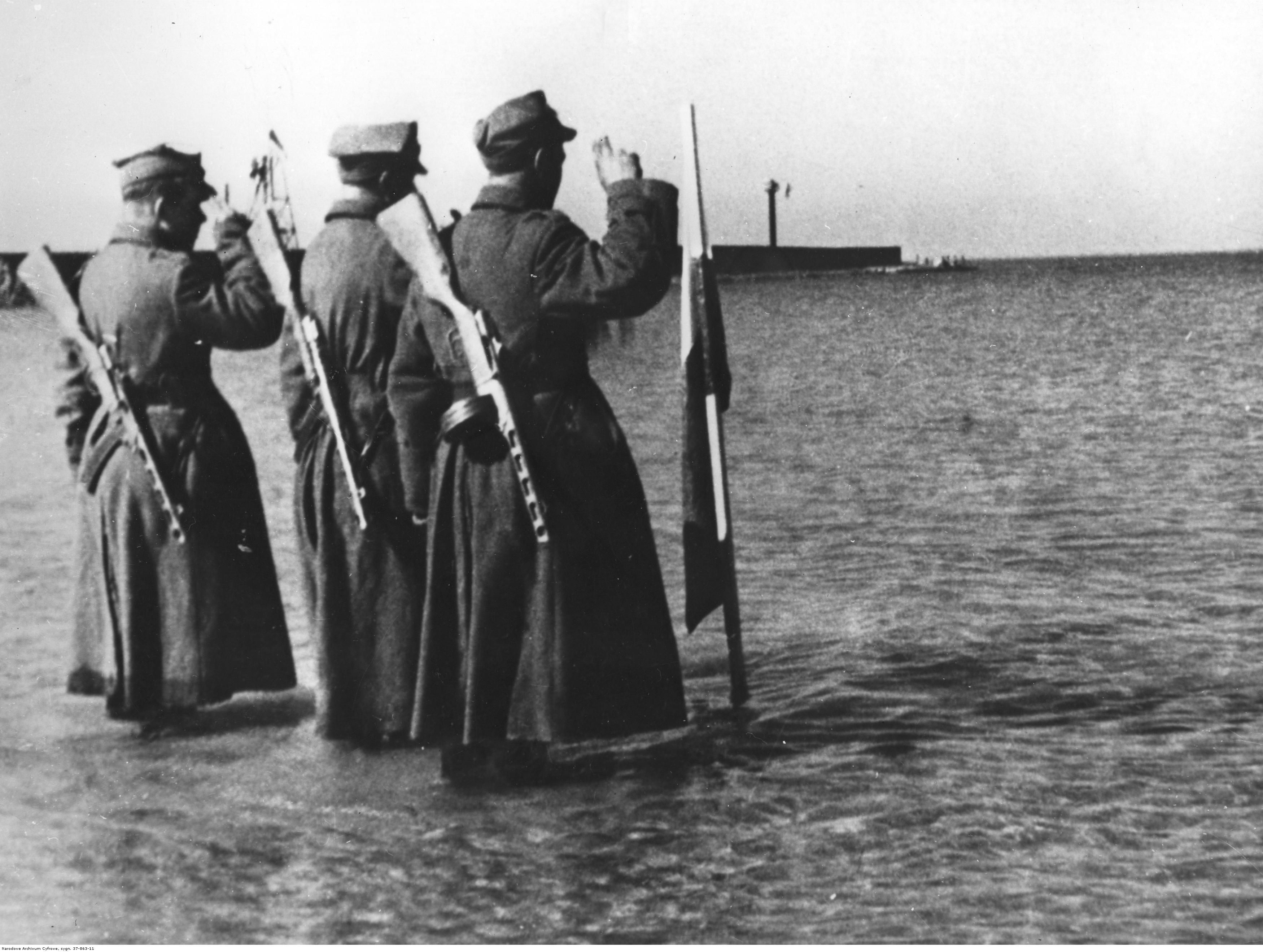 Daily TWiP - Poland and the Baltic Sea get married today in 1920


What kind of gift do you bring to a wedding where the happy couple consists of a country and a body of water? This odd question may have been broached today in 1920, when Poland was married to the Baltic Sea.

The ceremony was intended to symbolize Poland's newly restored access to the Baltic Sea, which had been lost during the Second Partition of Poland in 1793. Three such partitions took place during the second half of the 18th century, with Russia, Prussia, and Austria basically dividing Poland up amongst themselves. With the third partition, Poland ceased to exist as an independent nation.

It wasn't until after World War I that Poland was reestablished as a nation-state. Between getting their country back and seeing their all-important access to the Baltic Sea restored, the Polish were in quite a celebratory mood on this day in 1920. Nothing could have been more appropriate than a wedding.

The ceremony took place in Puck and was presided over by General Józef Haller. A military flag was dipped into the Baltic Sea and the general tossed a ring into the waves. Speeches were then given in hopes of a fruitful union - namely, that regaining access to the Baltic sea would have a powerfully positive effect on Poland's economic development.

Poland and the Baltic Sea have been happily married ever since and have renewed their vows twice. The first renewal took place March 17, 1945, in Mrzezyno, after the town was ceded to Poland as part of the German province of Pomerania as a result of the Potsdam Conference. The second renewal took place a day later in Kołobrzeg, another German concession.

This year is actually Poland and the Baltic Sea's 90th anniversary. The traditional gift for this anniversary is granite, but we suspect they won't need it. There are already stone monuments commemorating their ceremonies in Puck and Mrzezyno, as well as a flag marking the location of their ceremony in Kołobrzeg.

Daily TWiP appears Monday through Friday courtesy of The Week in Preview. Check out The Week in Preview online in our Columnists section or read it in print on Mondays in our Nashua and Region section.

Keep track of Daily TWiP, The Week in Preview, Tete-a-tete, and Teresa's general ramblings at twitter.com/TeresaInPreview.

- Teresa Santoski