Post by pjotr on Oct 29, 2015 14:24:49 GMT 1
Dear Bonobo and Jeanne,
The year 2015 marks the 100 year anniversary of the birth of
Tadeusz Kantor
, an avant-garde Polish painter, assemblage artist, set designer and theatre director. Kantor is renowned for his revolutionary theatrical performances in Poland and abroad. This '
100 year anniversary'
is being honoured worldwide as the "
Year of Tadeusz Kantor
" announced by UNESCO.
Born in
Wielopole Skrzyńskie
,
Galicia
(then in Austria-Hungary, now in
Poland
),
Kantor
graduated from
the Cracow Academy
in
1939
. During the
Nazi occupation of Poland
, he founded
the Independent Theatre
, and served as
a professor at the Academy of Fine Arts in Kraków
as well as
a director of experimental theatre in Kraków
from
1942
to
1944
. After the war,
he became known for his avant-garde work in stage design including designs for Saint Joan
(1956) and
Measure for Measure
(1956). Specific examples of such changes to standard theatre were stages that extended out into the audience, and the use of mannequins as real-life actors.
Kantor
is renowned for his theatre performances which were staged in
Poland
and abroad.
Kantor
's life and art reflected
the Polish reality
of the different periods of the 20th century. They included the multi-cultural towns of the inter-war period, the harsh times of the nazi occupation and the post-war period of communism.
I read about
Tadeusz Kantor
in the new bimonthly english language magazine about Central- and Eastern-Europe '
New Eastern Europe
', which I bought at the Bruna book store at the station of Nijmegen on my way
the Abbey of Berne
in
Heeswijk-Dinther
, saturday morning.
Nijmegen
is a university city and therefor has more international magazines in it's book stores than
Arnhem
, a city of only vocational universities. Therefor I prefer the intellectual and cultural climate of
Nijmegen
.
New Eastern Europe
is co-financed by
the Polish Ministry of Foreign Affairs
within the great programma "
Eastern Dimension of Polish Foreign Policy 2015
". The essays and texts in
New Eastern Europe
were possible due to the fact that it was co-financed by
the City of Kraków
and the cooperation of
the Jan Nowak-Jeziorański College of Eastern Europe
in
Wrocław
.
If you can buy this magazine or read it in your grand café with reading table or library would be fine. I can't copy the texts over here unfortunately due to copy rights.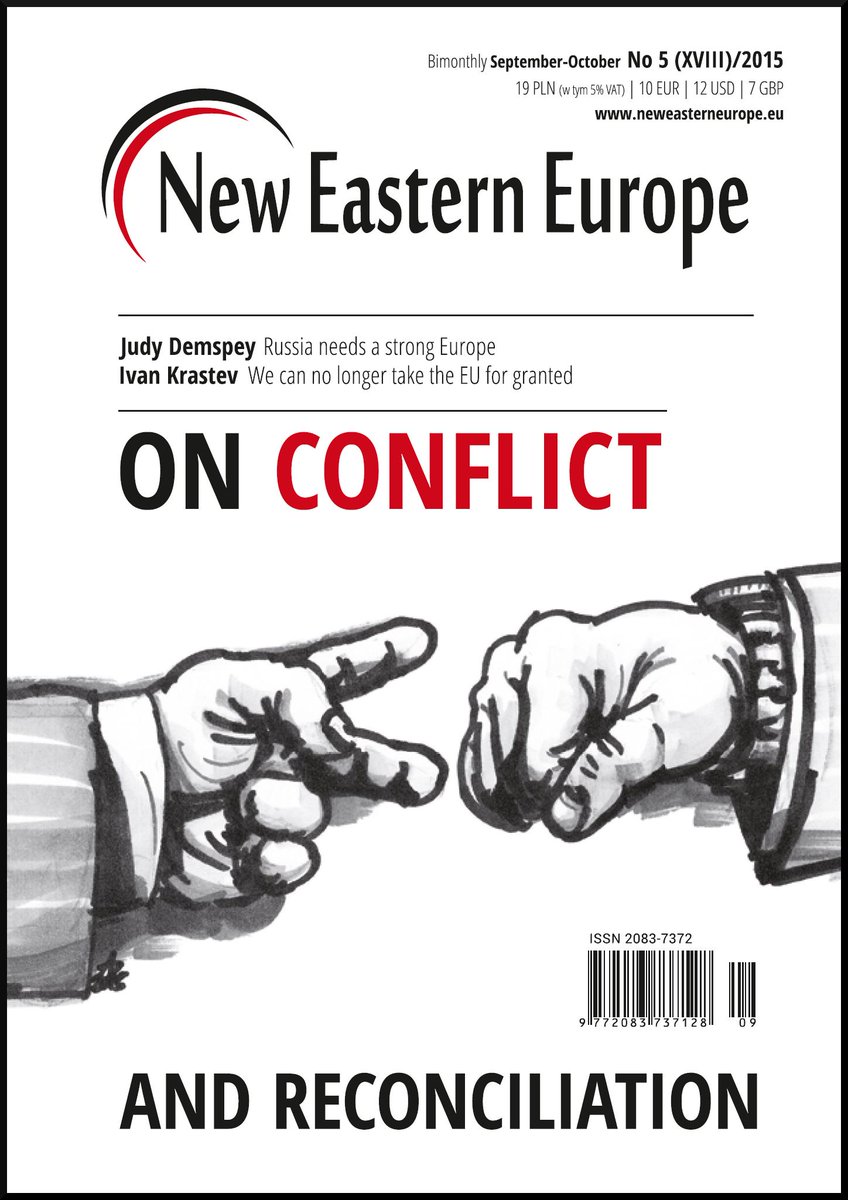 This is the cover of the magazine I bought in Nijmegen with the excellent essays and articles about Tadeusz Kantor
www.neweasterneurope.eu/