Post by pjotr on Dec 20, 2015 19:00:20 GMT 1
Democracy Defence Committee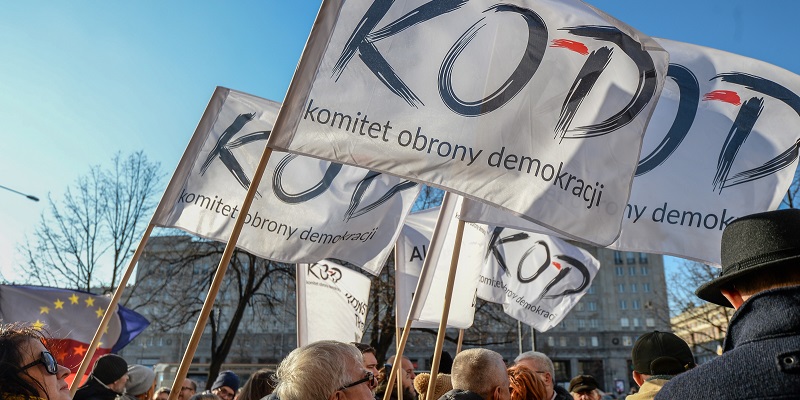 Komitet Obrony Demokracji - manifestacja 12 grudnia
The Committee for the Defence of Democracy (Polish: Komitet Obrony Demokracji, KOD) is a Polish citizens' organization founded in November 2015.The Committee
protests against the hijacking of the Polish political scene by
Law and Justice
(
PiS
) - the governing party that has a majority of seats in the Polish Parliament. The founders of the Committee envoke the tradition of
the former anti-communist Workers' Defence Committee founded in 1976
. The Comittee is not affiliated with any of the political parties active in Poland; the members come from all sides of the political scene, with the exception of the PiS and Kukiz'15 parties as well as the marginal right wing groups.
Mateusz Kijowski
is the founder of the organization with more than 75,000 supporters on Facebook (and counting).
Mateusz Kijowski, the founder of the Committee for the Defence of Democracy
On
November 26th
,
2015
, the members of the Committee wrote an open letter entitled "
A Letter of the Citizens of the Constitutional State to Andrzej Duda, the President of Poland
" calling him to swear in the three judges of
the Constitutional Court
who were elected by
the Sejm
of the previous
7th legislature period
.
In the face of failure to comply with the Committee's request and the Government's refusal to publish the legitimate decision of
the Constitutional Court
in
the Journal of Laws
, the Committee has called on the citizens
to protest against the clear breach of the constitution
,
violation of democratic rules
and
the tripartite division of power
. The demonstration took place in front of
the headquarters of the Constitutional Court in Warsaw
on
December 12th, 2015
. The number of demonstrators in
Warsaw
estimated by "
Der Spiegel
" and "
Le Monde
" was
50,000
. Demonstrations were also held in the main cities of Poland:
Wrocław
(circa 2,000 people),
Poznań
(over 2,000 people),
Bielsko-Biała
(200),
Lublin
(500), and
Szczecin
(over 2,000 people). On
December 13, 2015
, over
3,000 people
demonstrated in
Gdańsk
.
Meanwhile, the government's spokesperson - pressed by the public - has declared the above mentioned
Constitutional Court decision
will eventually be published. Some hours later, the leader of the
PiS
party,
Jarosław Kaczyński
firmly stated he would never allow to publish
the Constitutional Court decision
.
www.thenews.pl/1/9/Artykul/233593
,Antigovernment-protests-held-in-over-20-Polish-cities
The website of the Democracy Defence Committee:
www.komitetobronydemokracji.pl/