Post by Bonobo on Mar 5, 2016 20:40:51 GMT 1
Hasidic Jews make Polish pilgrimage
02.03.2016 09:28
About 2500 Hasidic Jews from Europe, the United States, Canada and Israel have been visiting the town of Leżajsk in south-eastern Poland over the past two days as part of an annual pilgrimage.

The pilgrims have come to pray at the tomb of eighteenth century Rabbi Elimelech Weissblum on the 230th anniversary of his death.

Henryk Ślanda of the Leżajsk-Polska Hasidic Foundation told journalists that in view of the shortage of accommodation in Leżajsk, successive groups of Jews leave the town after their prayers to allow others to take part in the commemoration.

Elimelech died in the month of Adar, and in view of the fact that this year, being a leap year, there are two months called Adar in the Jewish calendar, there will be another Hasidic pilgrimage to his grave at the end of March. According to Ślanda, it is likely to attract some 5, 000 Jews.

Hasidic Jews believe that on the anniversary of his death Rabbi Elimelech Weissblum, who is regarded as one of the three fathers of the Hasidic movement, descends from the heavens and answers the prayers of pilgrims.

Their pleas are submitted in written form as 'kvitels', paper notes that are placed on the rabbi's grave, which in this case is located in a specially constructed building within the grounds of the town's old Jewish cemetery.

Prior to the Second World War, with a Jewish population of about 3,000 Leżajsk was among the most important centres of the Hasidic movement on Polish lands. The vast majority of the Leżajsk Jews did not survive the Holocaust. The tradition of the annual pilgrimages to the grave of Elimelech Weissblum was revived in the 1970s.
- See more at:
www.thenews.pl/1/11/Artykul/242926
,Hasidic-Jews-make-Polish-pilgrimage#sthash.88ezWRny.dpuf
See films
aordycz-lezajsk.blogspot.com/2014/03/jorcajt-cadyka-elimelecha-chasydzi-w.html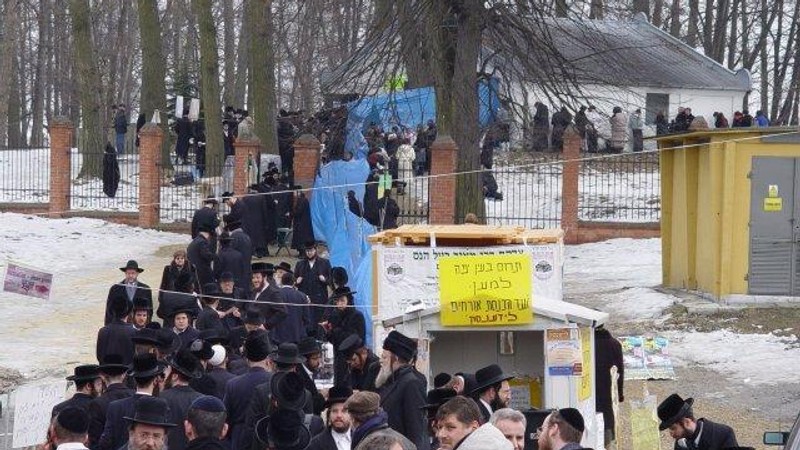 3.bp.blogspot.com/-GcvTDXsQgUE/UTHxGdiu7gI/AAAAAAAAWxU/NLz91MxeJzc/s1600/P1430766+-+Kopia+%25281024x684%2529.jpg