Post by Bonobo on Jul 19, 2008 1:16:34 GMT 1
KRAKOW (EJP)---Krakow' s 18th Jewish Culture Festival ended on Sunday after an evening's gigantic closing ceremony which was broadcast live on national Polish television.
Every year, in the midst of the Polish summer heat, the festival takes its place in Kazimierz, the city's historical Jewish quarter.
An astounding variety of Jewish related cultural and folklore events took place for nine days.
During the festival, thousands of visitors from all over the world and many local Poles got a chance to sample Jewish and Israeli related art exhibitions, theatre, music and Hazzanut concerts, film screenings, lectures, Yiddish and Hebrew lessons, Klezmer and Hassidic dance workshops, as well as tours to Kazimierz's historical synagogues and Jewish cemeteries and monuments.
This year's festival stood in the framework of Israel's 60th anniversary and the Polish Year in Israel.
Consequently, Zionism and Judaism were present throughout the themes of the festival.
Prof. Shevah Weiss, former speaker of the Knesset, Israel's parliament, and a former Israeli ambassador to Poland, told EJP: "Israeli art and culture are now an integral part of the festival, and the distinction between Israel and Judaism is fading. Those who take interest in Jewish culture usually associate Israel with being Jewish."
Krakow's annual Jewish Culture Festival, which is one of the largest cultural Jewish events in the world, is a fully fledged commercial endeavor, organized by local non-Jewish Pole Janusz Makuch and aimed mainly at a non-Jewish crowd.
The local Jewish community as well as Jewish voices worldwide have long expressed mixed feelings about the event.
Some view it as an attempt to capitalize on popularizing Jewish heritage, in a place where the Jewish world has known its darkest times.
The visiting crowd, however, seemed so enthralled by the opportunity to absorb the Jewish culture, that it's hard not to view the event as a `win-win' situation for everybody.
"To see how a crowd warms up to a band performing Jewish folk songs with kippah's on their head was very touching," says Sammy Frankel, a British Jew who moved to live in Israel 3 years ago, and is now visiting the festival.
Ewa Szmal, a Polish Christian who came to the festival from Warsaw, explains that "the Jewish legacy was a shaping force in Polish culture and it's important for us to learn about it, especially after the communism has taught us its own false version of our history."
Apart from the sudden cloudburst at its ending ceremony, it seems that this year's Jewish Culture Festival in Krakow will be labeled a success by most of its visitors.
Pics from different years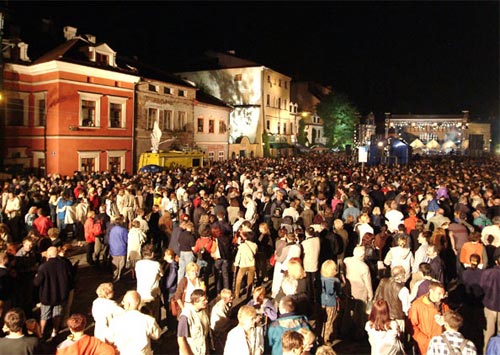 Slideshow here:
fzp.net.pl/galeria/slides/IMG_0163.html