Post by pjotr on Mar 30, 2016 20:32:33 GMT 1
Dear friends,
Link you I am raised with christianity in a predominantly Dutch Reformed majority environment in a Roman-Catholic community, which was the minority group. Next to that I was raised by rather secular and rational-analythical parents who cared for cultrure, science and who believed in the darwinist evolution theory. A theory I also got tought at school.
This scientist from Great-Britain sees harm in religion and faith and goes far in researching that threat by examening the three monotheist religions.
Cheers,
Pieter
Richard Dawkins Interviews Ted HaggardEvolutionary Biologist
and outspoken
atheist
Professor
Richard Dawkins
interviews (former) Pastor
Ted Haggart
of New Life Church. From Dawkins' documentary '
Root to All Evil
?'
Richard Dawkins
thought that in his lifetime evolution would be accepted, and tought around the world as a scientific fact, supported by overwhelming evidence. But unfortunately for Dawkins, the whole point about faith, is that even massive and constant accumulated evidence physical evidence cuts no ice.
Evolution today is under threat
. In the bible belt of Middle America Evanglical christians are fighting back against science.
In the New world religion is free enterprice, rival groups set up shop on every streetcorner, competing to save peoples souls, and collect their money,
fundamentalist christianity is on the rise under the electorate of the worlds only super power
. If you believe the surveys,
45% of Americans
,
that is about 145 million people
. People like
Ted Cruz
,
George W. Bush
,
Jerry Falwell
,
David Barton
, a Texan evangelical Christian political activist and author and a
Christian nationalist
and "
one of the foremost Christian revisionist historians
"; much of his work is devoted to advancing
the idea
, based upon research that many historians and journalists describe as flawed,
that the United States was founded as an explicitly Christian nation
and that
the assertion that the United States Constitution calls for separation of church and state
is a "
myth
."
Ted Cruz
George W. Bush
Jerry Falwell
Texan evangelical Christian political activist and author David Barton
James Dobson
,
Billy
and
Franklin Graham
,
Ted Haggard
, Texan
Richard Land
, bible teacher
Joyce Meyer
,
Rick Santorum
(
The Senate's third-ranking Republican may be a Catholic, but he's the darling of Protestant Evangelicals
.), the Messianic Jew
Jay Sekulow
, and "
Christian social engineer
"
Ralph Winter
.
James Dobson
Billy Graham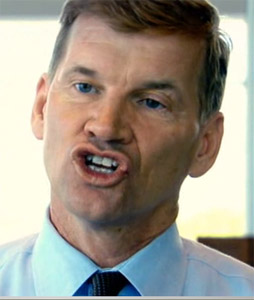 Ted Haggard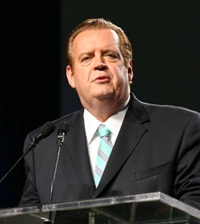 Richard Land
Jay Sekulow
Ralph Winter
The 2004 survey of religion and politics in the United States identified the Evangelical percentage of the population at 26.3 percent while Roman Catholics are 22 percent and mainline Protestants make up 16 percent. In the 2007 Statistical Abstract of the United States, the figures for these same groups are 28.6 percent (Evangelical), 24.5 percent (Roman Catholic), and 13.9 percent (mainline Protestant.) The latter figures are based on a 2001 study of the self-described religious identification of the adult population for 1990 and 2001 from the Graduate School and University Center at the City University of New York. A 2008 study showed that in the year 2000 about 9 percent of Americans attended an Evangelical service on any given Sunday. The Economist estimated in May 2012, that "
over one-third of Americans, more than 100 M, can be considered evangelical
," arguing that the percentage is often undercounted because many black Christians espouse Evangelical theology but prefer to refer to themselves as "born again Christians" rather than "
evangelical
." These estimated figures given by The Economist agree with those in 2012 from Wheaton College's Institute for the Studies of American Evangelicals.
P.S.-
Kaima (Ron) already wrote about the danger of Fundamentalist christians in the USA, and thus the Evangelicals, so I have to mention that (him). Not all Evangelicals are extremists, but there is a concerning amount of theocratic, anti-secular, radical or extremist christians. Also with a link to Israel these christians can be dangerous. Some of them want to rebuilt the temple on the temple mount and topple the Al Qaqsa mosque while doing so. That kind of dangerous they are. They would like to start Armageddon. Kaima justly stated that these American extremists are equally dangerous as Islamist and Jewish extremists. Like the killers of Sadat and Rabin.