Post by pjotr on Jun 27, 2016 19:04:07 GMT 1
Ofcourse the Rightwing Populists, migrant haters, far right nationalists and ultra-conservative Eurosceptics on the European continent cheer and welcome this Brexit without having solutions to real political, financial, economical and social problems themselves. Like our Geert Wilders in the Netherlands, Marine Le Pen in France, Heinz-Christian Strache of the FPÖ in Austria, Matteo Salvini of the Northern Leage in Italy, Frauke Petry of Alternative für Deutschland in Germany, Tom Van Grieken of Flemish Interest (Vlaams Belang) in Belgium, Kristian Thulesen Dahl of the National conservative, Rightwing Populist, Eurosceptic and Danish nationalist Danish People's Party (Danish:
Dansk Folkeparti
, DF).
Many young Brits consider the Brexit as disastrous for their future and the future of their children. Older Brits voted for Brexit and many lower educated Brits. Democracy has worked, but that doesn't says the democratic vote and the will of the majority is always the best solution, as the present Brexit victory in June 2016 and the NSDAP victory in Nazi German in 1933 show. Brexit is a great support to the rightwing Populist continental European far right.
Wilders already called for a
Nexit
(the Dutch leaving the EU) in the Netherlands, talking about a Referendum about the Dutch membership of the EU. Marine Le Pen wants a
Frexit
, France leaving the EU too.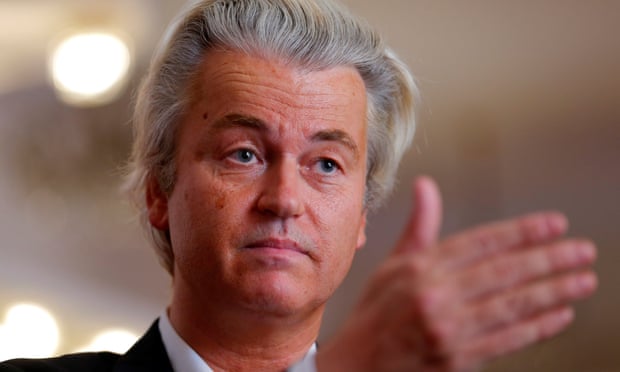 Geert Wilders, leader of the Dutch Freedom party, has pledged to make a referendum on EU membership a key issue in next year's general election. Photograph: Laszlo Balogh/Reuters
In my opinio the EU has been a succesful political, financial-economical and social-cultural project in Europe for the past 70 years. The EU managed to maintain peace, communication and cooperation between former enemies (France and Germany), and the Erasmus student exchange program let many European students to study abroad and expand their horizon. The EU has been good for Poland.
Do I have no criticism for the EU at all? Yes, I do. I believe that the EU could be more democratic, that the power of the European parlaiment should be larger, that the European parlaiment should function like a national parlaiment and control and criticize the European Commission and European President (Donald Tusk). The European Commission should be elected and thus chosen via a democratic proces. That isn't the case today.
So criticism of the EU is ok, but a Brexit, Nexit or Frexit goes to far for me.