Post by Bonobo on Feb 9, 2017 21:35:38 GMT 1
Krzysztof Kamil Baczyński was 23 when he died in Warsaw Uprising.
(1921-1944)
Krzysztof Kamil Baczyński, (Polish pronunciation: [ˈkʂɨʂtɔf ˈkamil baˈt͡ʂɨɲskʲi]; nom de guerre: Jan Bugaj; January 22, 1921 – August 4, 1944) was a Polish poet and Home Army soldier, one of the most renowned authors of the Generation of Columbuses, the young generation of Polish poets of whom several perished in the Warsaw Uprising and during the German occupation of Poland.
Baczyński was born in Warsaw in the family of renowned literary critic and soldier of Polish Legions in World War I, Stanisław Baczyński and school teacher Stefania Zieleńczyk. His mother was a zealous Catholic but with Jewish roots (like his father too), and as such was treated by the Germans as a Jew. His uncle, Dr. Adam Zieleńczyk, escaped from the Warsaw Ghetto and was killed by Germans in 1943.[1]
Baczynski was baptized on September 7, 1922 in Warsaw. As a child, he suffered from asthma, his heart was very weak and he was in constant threat of tuberculosis. In 1933, he began education at Gimnazjum i Liceum im. Stefana Batorego, he graduated in May 1939. In his class there were future heroes of Szare Szeregi - Jan Bytnar (Rudy) and Tadeusz Zawadzki (Zośka). Baczynski debuted as a poet some time in 1938 in Strzała - a magazine published by Organization of Socialist Youth Spartakus, to which he belonged himself. After graduation, he was planning to continue education at Warsaw's Academy of Fine Arts, but the outbreak of World War II ended these plans.
During the German and Soviet (until 1941) occupation of Poland, he continued to cooperate with the left-wing underground press, most notably with the "Płomienie" (Flames) and "Droga" (Way) magazines. At the same time he was a student of Polish language at the secret underground Warsaw University and the Armia Krajowa's "Agricola" NCOs School. He took up several jobs, and in 1943 joined Batalion Zośka, after which he gave up studies, committing himself to the Polish resistance activities. In his apartment, he hid several pieces of weaponry, including submachine guns and grenades.
On July 6, 1942, he married Barbara Drapczyńska, a university colleague. The marriage resulted in a set of erotica written by Baczyński, reputedly one of the most notable in the Polish language. Shortly before the Warsaw Uprising Baczyński gave a copy of all his poems to one of his friends, to hide in Żoliborz. Because of that, they survived the war.
As a member of Scouting Assault Groups (Harcerskie Grupy Szturmowe), Baczyński took part in many sabotage actions throughout the occupation. One of them was derailment of a German military train in August 1944, which resulted in a 26-hour delay of traffic on the strategic connection Warsaw-Białystok.
After the Warsaw Uprising broke out, he joined the "Parasol" battalion. He was killed in action by a German sniper at approximately 4 pm of August 4, 1944, in Blank Palace (Pałac Blanka) in the Warsaw Old Town area. He is buried in the Powązki Military Cemetery, together with his pregnant wife, who was killed on September 1, 1944. He was posthumously awarded the Armia Krajowa Cross in 1947[the award founded in 1966?].
In his poems and short novels, Baczyński demonstrated both romantic traditions and catastrophism. His poems depict the brutality of war, and suggest that love is the only force that can effectively defend a human being against it. His talent was highly appreciated by his contemporaries, Stanisław Pigon, upon hearing news of Baczynski joining the Szare Szeregi, said to Kazimierz Wyka: We belong to a nation, whose fate is to shoot at the enemy with diamonds.
Z lasu.
Las nocą rośnie jak jezior poszum.
Droga kołysze we mchu, we mchu.
Ciężkie kolumny mroku się wznoszą,
Otchłanie puste z ciemności płoszą
krzyk zły, wysoki jak ze snu.
A dołem potok ludzi i wozów
i broni chrzęst we mgle, we mgle.
Spod stóp jak morze wydęte grozą
nieujarzmiona piętrzy się ziemia
i głosy ciemne leżą w przestrzeniach
jak to, co czeka obce i złe.
Żołnierze smukli. Twarzyczki jasne,
a moce ciemne trą się i gniotą,
lądy się łamią, sypie się złoto
i chyba pancerz ziemi za ciasny
pęka, rozsadza i grzmi, i grzmi.
Twarzyczki jasne! na widnokręgach
armie jak cęgi gną się i kruszą.
O moi chłopcy, jakże nam światy
odkupić jedną rozdartą duszą?
Kochać, a to się wydaje mało,
ginąć - to słabość tylko wyzwolić,
bo nie nadąża chłopięce ciało,
a ciemność stoi i grzmi, i grzmi.
Las nocą rośnie. Otchłań otwiera
usta ogromne, chłonie i ssie.
To tak jak dziecko, kiedy umiera,
i tak jak ojciec, który żyć musi.
Przeszli, przepadli; dym tylko dusi
i krzyk wysoki we mgle, we mgle.
27.VI.1944
From the forest
Forests grow nightly like lakes' waves swooshing.
The road rocks on in the moss, the moss.
Heavy dusk pillars upward are pushing.
Vast hollow voids from the murk are flushing
shrill, evil crIes out, as from a dream.
Below, a stream of people and wagons,
a clank of arms in the mist, the mist.
From underfoot, like a sea by dread swollen,
unfettered heaves and piles up the earth,
while darkling voices lie in the ether
like an awaiting, strange, evil beast.
Slim soldiers. Faces so young and bright,
while forces of darkness jostle and strain,
continents shatter, gold pours like rain,
t'would seem, earth's armour, grown now too tight,
bursts, splits asunder, and roars, and roars.
O bright young faces! On the horizon
armies like pinccrs wrestle and maul.
O bright young fellows, how can we ransom
the worlds with but one rent human soul?
By love? but this would not near suffice,
and dying – only sets weakness free,
for the boy's body lags in the race,
darkness stays standing and roars and roars.
Forests grow nightly, the void gapes, opening
its mouth enormous, swallows and sucks.
They, like a child that's helplessly dying,
father, who lives on, as live he must.
Have passed, are lost; is left choking dust,
And the shrill cry, in the mist, the mist.
27.VI.1944
(died 4. 8. 1944)
tłumaczył/translated by: Marcel Weyland (Sydney)
Dla upamiętnienia rocznicy Powstania Warszawskiego.
To commemorate the anniversary of Warsaw Uprising.
www.antoranz.net/CURIOSA/ZBIOR6/C0608/20060826-QZM01057_Baczynski-Zlasu.HTM
=============================================
Krzysztof Kamil Baczyński
(1921-1944)
Elegia o chłopcu polskim
Oddzielili cię, syneczku, od snów, co jak motyl drżą,
haftowali ci, syneczku, smutne oczy rudą krwią,
malowali krajobrazy w żółte ściegi pożóg,
wyszywali wisielcami drzew płynące morze.
Wyuczyli cię, syneczku, ziemi twej na pamięć,
gdyś jej ścieżki powycinał żelaznymi łzami.
Odchowali cię w ciemności, odkarmili bochnem trwóg,
przemierzyłeś po omacku najwstydliwsze z ludzkich dróg.
I wyszedłeś, jasny synku, z czarną bronią w noc,
i poczułeś, jak się jeży w dźwięku minut zło.
Zanim padłeś, jeszcze ziemię przeżegnałeś ręką.
Czy to była kula, synku, czy ci serce pękło?
Elegy on a Polish boy
From your dreams they cut you off, son, fluttering dreams like butterflies,
they embroidered for you, sonny, with red blood your suffering eyes,
painted landscapes stitched and strung with streaming fires' yellow motif,
and with hanged men ornamented seas of treetrunks floating.
And they taught you well, my sonny, taught you well your earth,
when you scythed a pathway through it cut with iron tears,
and they nurtured you in darkness, bread of fear fed to your lips,
and you measured your path blindly with most shameful human steps.
And went out, my sunshine bright, with black gun into night,
and each second's tick you sensed there - bristling evil's hate,
as you fell, the earth beneath you with your hand first blessed.
Was it bullets struck you, sonny, or the heart that's burst?
tłumaczył/translated by: Marcel Weyland (Sydney)
Dla upamiętnienia rocznicy Powstania Warszawskiego.
To commemorate the anniversary of Warsaw Uprising.
----------------------------------------------------
www.sppw1944.org/index.html?http://www.sppw1944.org/poezja/poezja_baczynski_eng.html
The belowe poems are presented here thanks to the courtesy of Professor Bill Johnston, the translator of Baczynski's poetry. His translations of these and forty other Baczynski's poems were published as "White Magic and Other Poems" a bilingual edition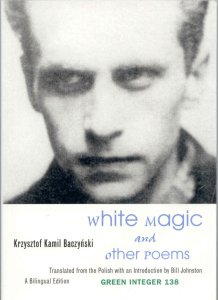 Rodzicom
A otóż i macie wszystko.
Byłem jak lipy szelest,
na imię mi było Krzysztof,
i jeszcze ciało - to tak niewiele.
I po kolana brodzący w blasku
ja miałem jak święty przenosić Pana
przez rzekę zwierząt, ludzi, piasku,
w ziemi brnąc po kolana.
Po co imię takie dziecinie?
Po co, matko, taki skrzydeł pokrój?
Taka walka, ojcze, po co - takiej winie?
Od łez ziemi krwawo mi, mokro.
Myślałaś, matko: "On uniesie,
on nazwie, co boli, wytłumaczy,
podźwignie, co upadło we mnie, kwiecie,
- mówiłaś - rozkwitaj ogniem znaczeń".
Ojcze, na wojnie twardo,
Mówiłeś pragnąc, za ziemię cierpiąc:
"Nie poznasz człowieczej pogardy,
udźwigniesz sławę ciężką".
I po cóż wiara taka dziecinie,
po cóż dziedzictwo jak płomieni dom?
Zanim dwadzieścia lat minie,
umrze mu życie w złocieniach rąk.
A po cóż myśl taka jak sosna,
za wysoko głowica, kiedy pień tną.
A droga jakże tak prosta,
gdy serce niezdarne - proch.
Nie umiem, matko, nazwać, nazbyt boli,
nazbyt mocno śmierć uderza zewsząd.
Miłość, matko - już nie wiem, czy jest.
Nozdrza rozdęte z daleka Boga wietrzą.
Miłość - cóż zrodzi - nienawiść, struny łez.
Ojcze, broń dźwigam pod kurtką,
po nocach ciemno - walczę, wiary więdną.
Ojcze -jak tobie - prócz wolności może i dzieło,
Może i wszystko jedno.
Dzień czy noc - matko, ojcze - jeszcze ustoję
w trzaskawicach palb, ja żołnierz, poeta, czasu kurz,
Pójdę dalej - to od was mam: śmierci się nie boję,
dalej niosąc naręcza pragnień jak spalonych róż.
30 lipiec, 1943
To my parents
And so this is all you have, then.
I was like the linden's rustle;
Krzysztof was the name I was given,
and my body-so very little.
And up to my knees in the dazzle,
like the saint, I was to bear the Lord across
a river of animals, sand, people,
wading in earth to my knees.
Why such a name for a child?
Why wings shaped in this way, mother?
Why a struggle, father, for such a fault?
The earth wet and bloody from my tears.
"He'll bear it all," you thought, mother:
"he'll name the pain, bring understanding,
raise within me what's fallen; o flower-
you said-bloom with the fire of meanings."
Father, it's hard at the war.
You said in your longing, your pain
for earth: "You'll not know human scorn,
Why should a child need such faith, and why
a legacy like a house of flames?
Before twenty years have gone by,
life will die in his glittering hands.
And why a mind like a pine-tree, too high
& the crown as the cut trunk crashes?
And how can the road run so straightly,
when the clumsy heart is all ashes?
Mother, I cannot name, the pain is too great,
death strikes too powerfully from every side.
Love-mother, I no longer know if it is;
From far away my flared nostrils smell God.
Love-what will it give firth to-hatred, streams of tears.
Father, I carry my gun in my jacket;
in the dark night I fight while the faiths all fade.
Father-like you-apart from freedom
maybe nothing else matters, or maybe my deed.
Day and night, mother, father, I'll endure
in the rifle-fire, I, soldier, poet, dust of time.
I'll go on-this I have from you: I do not fear
death, as I bear desires like burned roses in my arms.
July 30, 1943