Post by pjotr on Nov 6, 2017 0:01:59 GMT 1
That
Central European fascination
of me has to do with the fact that in
the Interbellum era
(
1919
-
1939
), between the two great world wars, in that
post Habsburg empire era
a lot of cultural, artistic, literary, poetic, cinematographic, photographic and thus
art historical developments
occured in
that part of Europe
. It was an interesting time in
Poland
in
Warsaw
,
Krakow
,
Poznan
,
Lwów
(Today Lviv in Ukraine),
Łódź
,
Gdańsk,
,
Bydgoszcz
,
Lublin
and
Wilno
(Today
Vilnius
, the capital of
Lithuania
). In the same time interesting developments took place in
Vienna
,
Budapest
,
Berlin
and
Prague
. While in art history, culture history, the history of poetry, literature, cinema, photography and graphical development art critics, art historians and art curators of
Modern art
museums often point at
Berlin
,
Vienna
,
Weimar
and
Dessau
(
Bauhaus
was located in
Weimar
and
Dessau
inbetween
1919
and
1933
) and
Paris
due to the fact that
German Expressionism
,
Dada
,
Surrealism
,
Cubism
(
Georges Braque
,
Pablo Picasso
,
Andre Lhote
,
Jean Metzinger
,
Albert Gleizes
,
Robert Delaunay
,
Henri Le Fauconnier
,
Fernand Léger
and
Juan Gris
) and other movements and forms of art developed there, but they forget about the important developments in
Warsaw
,
Kraków
,
Prague
and
Budapest
.
The impact of
Cubism
ofcourse was far-reaching and wide-ranging. In other countries
Futurism
,
Suprematism
,
Dada
,
Constructivism
,
De Stijl
and
Art Deco
developed in response to
Cubism
. It also had influence on Polish, Czech, Hungarian and Romanian artists. You had
Polish Cubist
,
Expressionist
and
Surrealist artists
too. Maybe their art was'nt called that way but
the Polish artists
were influenced by it. For instance the paintings and drawings of
Stanisław Ignacy Witkiewicz
and
Bruno Schulz
clearly had Surrealist, Magic Realist, expressionist and even Dadaist influences. In the same time
their work clearly had the marks of the Poland of their time
and both had a tragic death due to the Second World War. Like
Franz Kafka
they predicted the future ahead of them. Often artists and musicians are ahead of their time. Suicide and murder ended the lives of
Stanisław Ignacy Witkiewicz
and
Bruno Schulz
. In both their works dark themes, tension, alienation and intense life are present.
Witkiewicz
and
Schulz
were friends.
Witkiewicz
promoted emerging writers such as
Bruno Schulz
.
Stanisław Ignacy Witkiewicz
, was one of the few friends
Bruno Schulz
had.
Rebirth of Polish sovereignty
On November 11, 1918 the military power was transferred by the Regency Council to Josef Pilsudski, the independence activist and the founder of the Polish Legions
Polish culture
in the interwar period witnessed the rebirth of
Polish sovereignty
. The nationhood along with its cultural heritage was no longer suppressed by the three foreign partitioners. The cultural development saw the retreat of the 19th century elite cultures of nobility as well as the traditional folk culture, and the rise of a new mass culture integrating
Polish society
closer to
the new intelligentsia
educated in
the practice of democracy
.
An example of
the new freedom
, the celebration of
Polish language
and
Polish culture
was
Skamander
, a
Polish group of experimental poets
founded in
1918
by
Julian Tuwim
,
Antoni Słonimski
,
Jarosław Iwaszkiewicz
,
Kazimierz Wierzyński
and
Jan Lechoń
.
The group was initially closely related to
the Pro Arte et Studio
literary monthly and the
Pod Picadorem
(
Picador
)
Café
in
Warsaw
. In
1920
it created its own publication,
the Skamander monthly
, though its members also collaborated with
Wiadomości Literackie
(
Literary News
) and other newspapers.
Initially unnamed, in December 1919 it adopted the name
Skamander
, after
the Scamander River
in Asia Minor.
Jarosław Iwaszkiewicz, Antoni Słonimski, Jan Lechoń i Kazimierz Wierzyński na dworcu w Warszawie przed
Skamander
Skamander caricature - cartoon
Literature of the Second Polish Republic
(1918-1939) encompasses a short, though
exceptionally dynamic period in Polish literary consciousness.
The socio-political reality has changed radically with
Poland's return to independence
. In large part, derivative of these changes was the collective and unobstructed development of programs for artists and writers.
New avant-garde trends
had emerged. The period, spanning just twenty years, was full of notable individualities who saw themselves as
exponents of changing European civilization
, including
Tuwim
,
Witkacy
,
Gombrowicz
,
Miłosz
,
Dąbrowska
and
Nałkowska
(
PAL
). They all contributed to
a new model of the twentieth-century Polish culture
echoing
its own language of everyday life
.
The inaugural session of the Polish Academy of Literature, 1933. Sitting from left to right: Prime Minister Janusz Jędrzejewicz, Zofia Nałkowska, Maria Mościcka, President Ignacy Moscicki, Maria Jędrzejewicz, Wacław Sieroszewski, Leopold Staff. Standing from left: Colonel Jan Głogowski, director Skowroński, Zenon Przesmycki, Wacław Berent, Piotr Choynowski, Juliusz Kleiner, Wincenty Rzymowski, Jerzy Szaniawski, Juliusz Kaden-Bandrowski, Karol Irzykowski, Tadeusz Żeleński, Tadeusz Zieliński, and Bolesław Leśmian.
The period between 1918 and 1939
was characterized by
richnes
s,
variety
, and
increasing contact with other European literatures
, especially through
the publication of translations
. The two decades of
Interbellum
were marked by
rapid development in the field of poetry
, undivided and undiminished for the first time in over a century.
Lyrical poetry predominated for nearly a decade after 1918
. The periodical
Zdrój
("
The Fountainhead
") showed affinities with
German Expressionism
. In
Warsaw
several poets formed a group called
Skamander
, from the name of their monthly publication; it was united by a desire to forge a poetic language attuned to modern life. One of its founders,
Julian Tuwim
, was a poet of
emotional power
and
linguistic sensitivity
.
From
1918
to
1939
, the gradual and successive introduction of
new ideas
resulted in the formation of separate and distinct trends. The first decade of
Polish interwar poetry
was clear, constructive, and optimistic; as opposed to the second decade marked by dark visions of the impending war, internal conflicts within
the Polish society
, and
growing pessimism
. The whole period was amazingly rich nevertheless.
Bolesław Leśmian
wrote symbolic, Expressionist poetry that was remarkable for its inventive vocabulary, sensuous imagery, and philosophic content, all anticipating Existentialism. He published only three notable collections—Łąka (1920; "
The Meadow
"), Napój cienisty (1936; "
The Shadowy Drink
"), and Dziejba leśna (1938; "
Woodland Tale
"), published posthumously—but was considered by his admirers to be one of the most outstanding 20th-century Polish lyrical poets.
The Polish
Futurist movement
followed revolutionary trends in poetry—particularly in
Italy
and
Russia
. More original was a group called
Awangarda Krakowska
("
Vanguard of Kraków
"), led by Tadeusz Peiper. It produced few works but had widespread influence on the modernization of poetic technique. Two of its adherents,
Julian Przyboś
and
Adam Ważyk
, the latter of whom was only loosely connected with the movement, rank among the outstanding poets of the post-World War II period. Also noteworthy is
Józef Czechowicz
, who assimilated traditional and regional elements to the catastrophic images in his poems.
Awangarda Krakowska
Julian Przyboś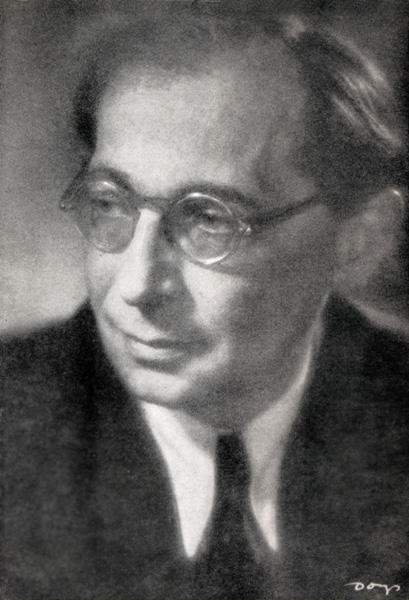 Adam Ważyk
Prose writing reached its ascendancy in the second decade of independence. Early novels by
Zofia Nałkowska
showed the influence of
the Young Poland movement
and focused on
exploring the feminine psyche
; later
Nałkowska
became preoccupied with
social problems
. Two other women writers of distinction were
Zofia Kossak-Szczucka
, noted for historical novels, and
Maria Kuncewiczowa
, who wrote
psychological novels
.
Juliusz Kaden-Bandrowski
used
experimental realism
in
Czarne skrzydła
(1928–29; "
Black Wings
") and
Mateusz Bigda
(1933; "
Matthew Bigda
"), which treated social and political themes.
Michał Choromański
's
Zazdrość i medycyna
(
1933
;
Jealousy and Medicine
) employed
experimental methods of narrative sequence
and was remarkable for its
clinical analysis of character
. A writer skilled in reflecting subtleties of perception was
Bruno Schulz
, author of
Sklepy cynamonowe
(1934;
Cinnamon Shops
), with prose reminiscent of
Franz Kafka
.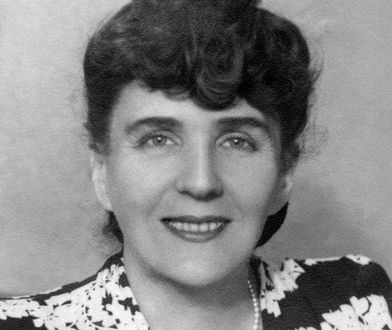 Zofia Nałkowska
Zofia Kossak-Szczucka
Maria Kuncewiczowa
All
Polish poets
treated the concept of freedom with extreme seriousness, and many patriotic works had emerged at that time, not to mention a particular variant of a poetic cult of
Piłsudski
.
For a short time during
the Interbellum
the
liberal themes
were ascendant in terms of "
cultural pluralism, religious and ethnic toleration, national self-determination, free-market economics, representative and responsible government, free trade, unionism, and the peaceful settlement of international disputes through a new body, the League of Nations
." But soon the dark clouds of
totalitarianism
of
fascism
,
Communism
and
Nazism
made an end to this
enlightened era
.
Back to the Interbelllum in Central Europe
In
Poland
artists, composers, musicians and writers like
Witold Gombrowicz
,
Stanisław Ignacy Witkiewicz
,
Karol Szymanowski
,
Jacek Malczewski
,
Bruno Schulz
and
Artur Rubinstein
left a mark on
Polish culture
and were part of a
Central European culture
. You (Bo, with much more experience, knowledge and information about Polish general history, art history, Krakow as the center of the Polish cultural intelligentsia; artists, poets, writers, philosophers, Bohemians, intellectuals, professors, playwrights (dramatists), cultural inventors and thus developers of Modern Polish avantgarde and culture.) will know much more then I due to your acces and understanding of Polish sources. The most irritating fact for me is that I have to depend on English language, German language and Dutch language sources. Even my french is to limited to be able to rely on a forth source, French language literature, texts, essays, articles and encyclopedia about Polish art history, culture and the Interbellum in Poland.
Jacek Malczewski
Jacek Malczewski
Jacek Malczewski
Stanisław Ignacy Witkiewicz - Portret_wielokrotny
Stanisław Ignacy Witkiewicz
Stanisław Ignacy Witkiewicz
Stanisław Ignacy Witkiewicz
Bruno SchulzThe tragically short life of writer and artist Bruno Schulz has been summarized: "Born an Austrian, lived as a Pole and died as a Jew." Revered as the "Polish Kafka", many of the modernist master's dreamlike, mystical drawings and paintings were feared lost. A German film maker spent years seeking Bruno Schulz's last frescoes and has built an installation of projections of the long-lost works.
Fun in the park by Bruno Schulz, [ca 1920-1922]. Jagiellońska
Bruno Schulz, Spotkanie, 1920
In Polish literature, the 1920s were marked by the domination of poetry. Polish poets were divided into two groups – the Skamanderites (Jan Lechoń, Julian Tuwim, Antoni Słonimski and Jarosław Iwaszkiewicz) and the Futurists (Anatol Stern, Bruno Jasieński, Aleksander Wat, Julian Przyboś). Apart from well-established novelists (Stefan Żeromski, Władysław Reymont), new names appeared in the interbellum – Zofia Nałkowska, Maria Dąbrowska, Jarosław Iwaszkiewicz, Jan Parandowski, Bruno Schultz, Stanisław Ignacy Witkiewicz, Witold Gombrowicz. Among other notable artists there were sculptor Xawery Dunikowski, painters Julian Fałat, Wojciech Kossak and Jacek Malczewski, composers Karol Szymanowski, Feliks Nowowiejski, and Artur Rubinstein, singer Jan Kiepura. Theatre was very popular in the interbellum, with three main centers in the cities of Warsaw, Wilno and Lwów. Altogether, there were 103 theaters in Poland and a number of other theatrical institutions (including 100 folk theaters). In 1936, different shows were seen by 5 million people, and main figures of Polish theatre of the time were Juliusz Osterwa, Stefan Jaracz, and Leon Schiller.
While the term Polish culture refers primarily to the Polish-language culture in Poland, the Second Polish Republic also had numerous vibrant national minorities, most notably Jewish, Ukrainian, Belarusian, Lithuanian and German. It was a multicultural society whose ethno-cultural makeup was shaped over a period of centuries.
The spirit of rebirth affected not only Poland's mainstream society, but also national, ethnic, and religious minorities. By the late 1930s, the Ukrainian press could boast some 68 titles published mainly in Lwów, Stanisławów and Kołomyja.
The Jewish cultural scene was particularly vibrant, with numerous Jewish publications and over 116 periodicals. Yiddish authors, most notably Isaac Bashevis Singer, went on to achieve international acclaim. Other renowned Jewish authors included Bruno Schulz, Julian Tuwim, Marian Hemar, Emanuel Schlechter, Jan Brzechwa and Bolesław Leśmian.
Kraków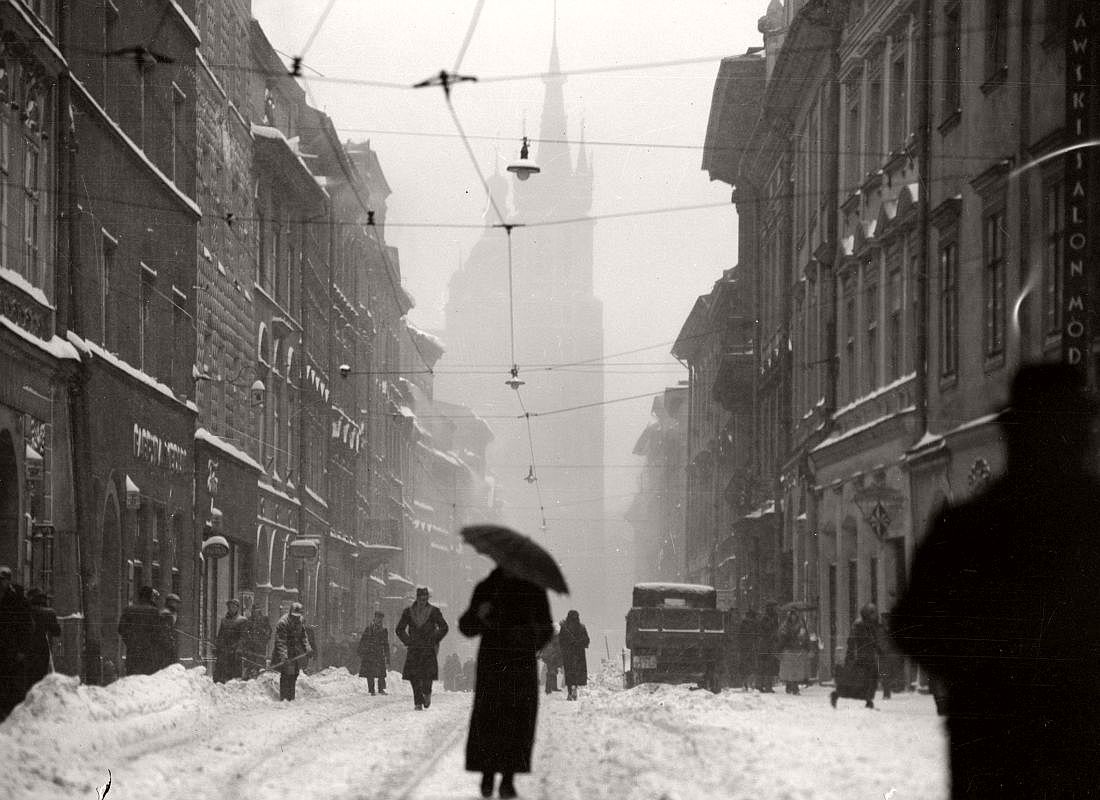 Floriańska Street in Krakow, 1936
With the emergence of the Second Polish Republic,
Kraków
resumed its role as a major academic and cultural centre, with the establishment of new universities such as the AGH University of Science and Technology and the Jan Matejko Academy of Fine Arts, including a number of new and essential vocational schools. I was tought by my mother that Kraków is the cradle of Polish civilisation. A center of Polish intelligentsia, academical life due to the Jagiellonian University (Uniwersytet Jagielloński), the Jan Matejko Academy of Fine Arts, or the Kraków Academy of Fine Arts (Akademia Sztuk Pięknych w Krakowie im. Jana Matejki, ASP), AST National Academy of Theatre Arts in Kraków (Akademia Sztuk Teatralnych im. Stanisława Wyspiańskiego w Krakowie), the art scene there of painters, drawers, sculpturists, graphical artists, art critics, art historians, art curators, art galleryists, musicians, playwrights, theatre actors and actresses, poets, writers and probably philosophers too.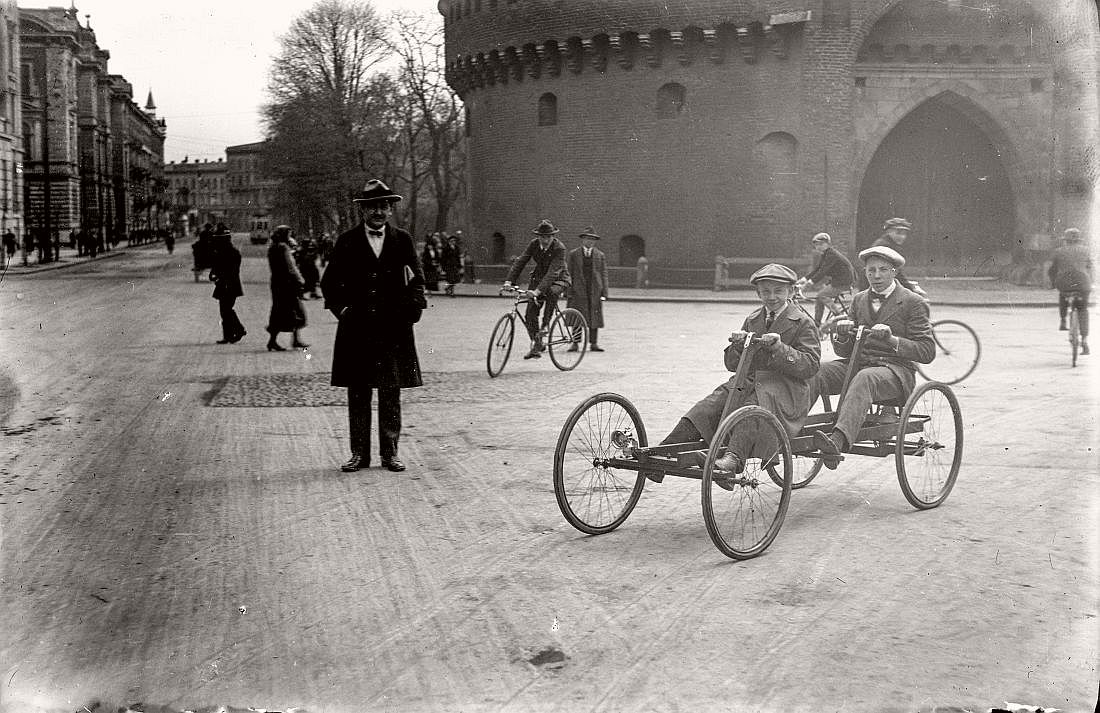 Double four wheeled vehicle with manual presented in Krakow before the Barbican. 1925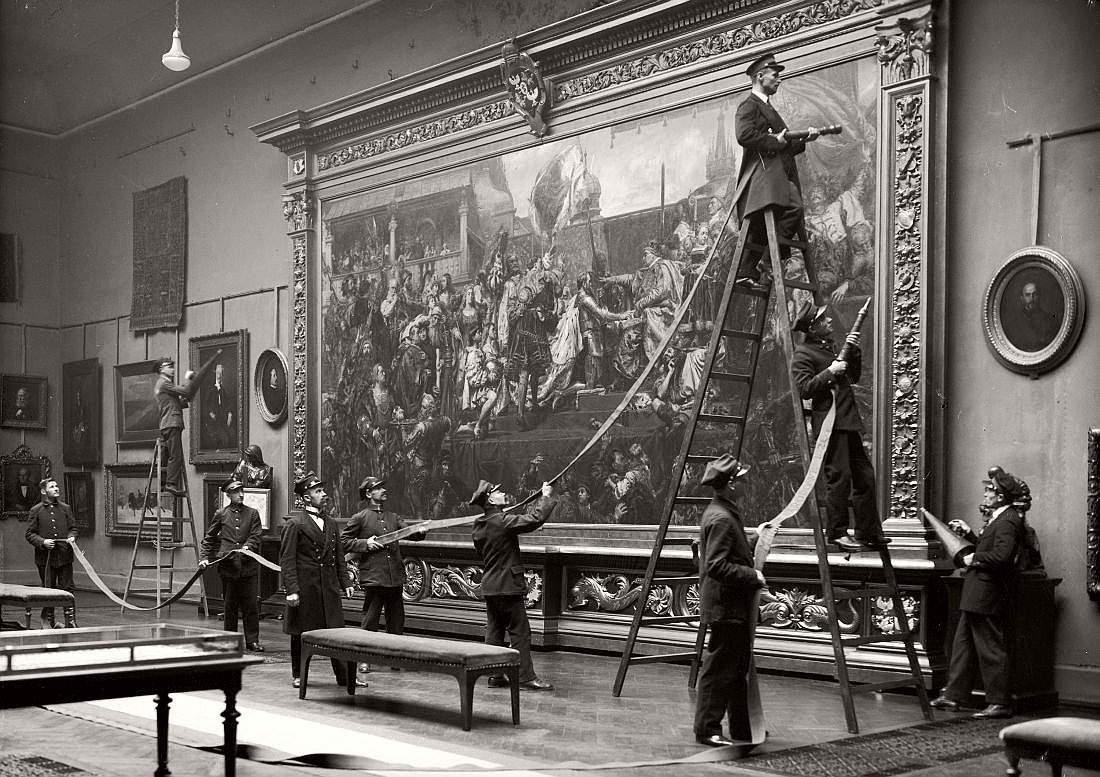 The National Museum in Krakow, 1930.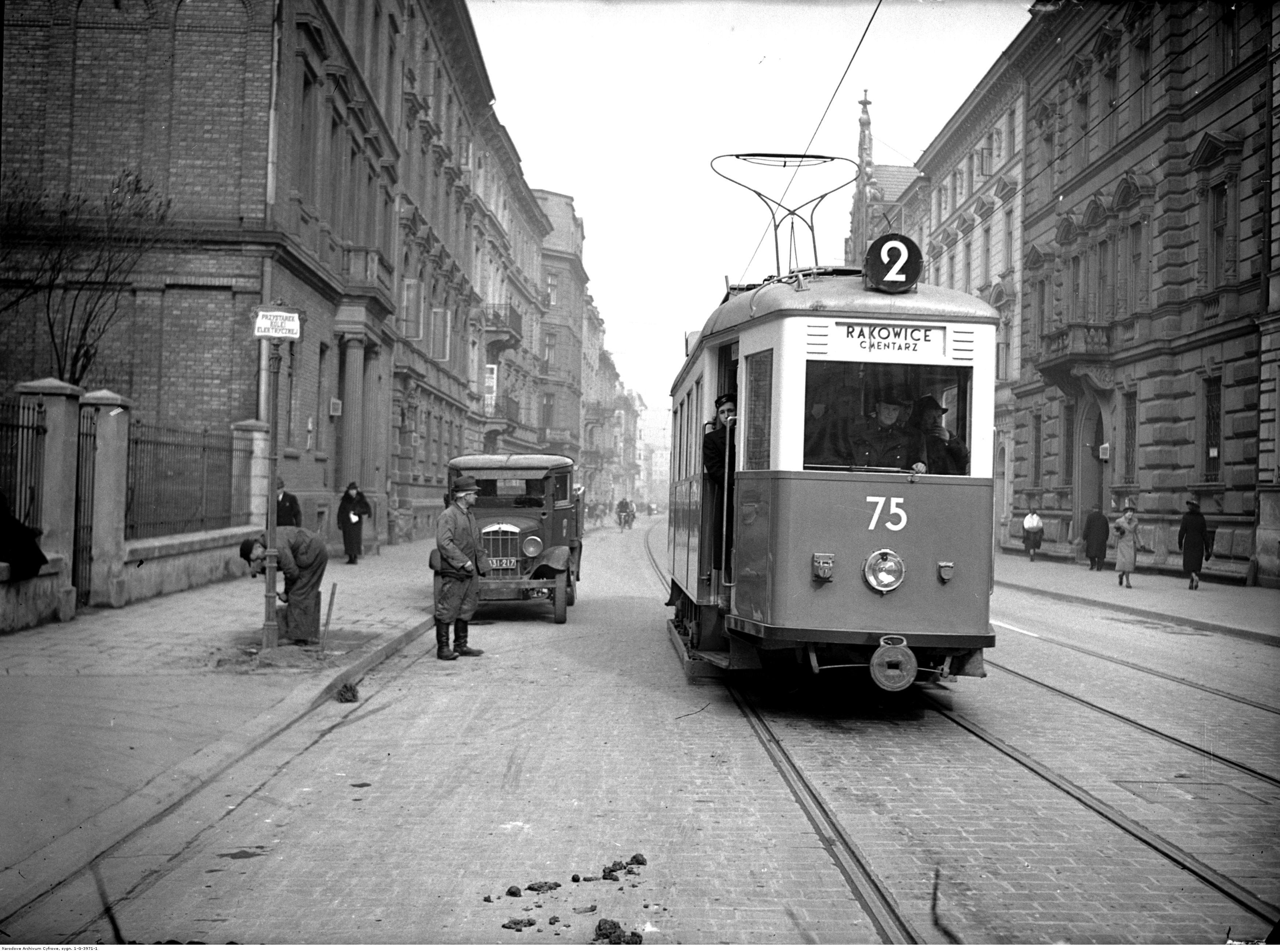 It was the same time that in
Prague
,
Germany
(Berlin and Weimar),
Paris
and
Budapest
, Franz Kafka, Rainer Maria Rilke, Bertolt Brecht, Kurt Weil, Hans Eisner, Thomas Mann, Hermann Hesse, l Lissitzky, Kurt Schwitters, Bauhaus (1919-1933), the Hungarian painter, sculptor, photographer, designer, theorist, and art teacher László Moholy-Nagy, Wassily Kandinsky, Max Ernst, Tristan Tzara, Man Ray, Friedrich Wilhelm "F. W." Murnau, Josef von Sternberg and others made their work.
In 1910 there were only 4.5% of the German-speaking population in
Prague
, yet there was a world-famous literature. Writers such as Rainer Maria Rilke, Franz Kafka, Max Brod, Franz Werfel, Egon Erwin Kisch, Friedrich Torberg, Oskar Baum, Johannes Urzidil, Felix Weltsch and Paul Leppin by some Germanists using a specific style, rather than to the Prague German refers to the literary patterns.
The turn of the 20th century marked a profound shift in Czech literature — after nearly a century of work, literature finally freed itself from the confines of needing to educate and serve the nation and spread Czech culture, and became literature simply for the sake of art. The orientation toward France, Northern Europe, and Russia intensified, and new demands were laid on the cultural knowledge of authors and their audience.
The interwar period, coinciding with the First Republic, is one of the apogees of Czech literature — the new state brought with it a plurality of thinking, religion, and philosophy, leading to a great flowering of literature and culture. The first major theme of the interwar period was the war — the inhumanity, violence, and terror, but also the heroic actions of the Czech Legion (Rudolf Medek, Josef Kopta, František Langer, Jaroslav Hašek). An antiwar comedy novel The Good Soldier Švejk by Jaroslav Hašek is the most translated novel of the Czech literature (58 languages as of 2013).
A new generation of poets ushered in the return of the avantgarde: poetry of the heart (early Jiří Wolker, Zdeněk Kalista) and naivism (Čapek brothers, Josef Hora, Jaroslav Seifert, and S. K. Neumann).
Vienna
1925. Vienna, Tegetthoffstraße
In the late 19th century, distinctly Austrian literary styles and mannerisms emerged. The writer Hermann Bahr was associated with an era of literary impressionism, the expressly Austrian characteristics of which—a heightened self-consciousness and feelings of ambivalence and tentativeness—were coupled with forebodings of being at the end of an overripe civilization. Hugo von Hofmannsthal, poet, dramatist, essayist, and librettist of six operas by Richard Strauss, and Arthur Schnitzler, whose dramas are thought to epitomize a hothouse Vienna at the turn of the 20th century, have best conveyed these sensibilities. Karl Kraus, whose literary, political, and social criticism and satire contemplated an entire era in his review Die Fackel (1899–1936), focused on the importance of language. Coming from Prague to Vienna, Franz Kafka, with his haunting works of the individual confronted with anonymous, unheeding power, has entered the canon of world literature.
Robert Musil's unfinished novel Der Mann ohne Eigenschaften (1930–43; "
The Man Without Qualities
") is said to be
a metaphor for Austria itself
. The Expressionist poet
Georg Trakl
wrote elegiacally of decay and death.
Franz Werfel
, another
Expressionist
, excelled as a poet, playwright, and novelist.
Stefan Zweig
, poet, dramatist, and story writer of imaginary and historical characters, was influenced by another Viennese,
Sigmund Freud
. Also writing in the first half of the 20th century were the Vienna-born philosopher
Ludwig Wittgenstein
and innovative novelist
Hermann Broch
.
The novelist Heimito von Doderer, who took an earlier Austria as his milieu, is a link between the vanished literary world of the pre-Anschluss years and the later 20th century.
Budapest
lthough the city's roots date to Roman times and even earlier, modern Budapest is essentially an outgrowth of the 19th-century empire of Austria-Hungary, when Hungary was three times larger than the present country. Hungary's reduction in size following World War I did not prevent Budapest from becoming, after Berlin, the second largest city in central Europe. One out of five Hungarians now lives in the capital, which, as the seat of government and the centre of Hungarian transport and industry.
Hungary's composers: Ferenc Erkel, Ernst von Dohnányi, Béla Bartók, and Zoltán Kodály all lived in the capital.
Váci street, Budapes, 1935
Explosive urban and industrial growth created social tension and the emergence of a working-class movement before World War I. After the disintegration of Austria-Hungary in the autumn of 1918, the National Council, a revolutionary body headed by Count Mihály Károlyi and supported by antiwar radicals and socialists, took power in Budapest. The following March the Károlyi regime collapsed; communists seized power in the capital and held it for four months while also controlling the central regions of the country. Romanian troops occupied and sacked Budapest before the old social order was restored by a counterrevolutionary army marching into the bűnös város ("sinful town") in November 1919.
After the signing of the Treaty of Trianon in 1920, Budapest—now the capital of an independent Hungary—became disproportionately large compared with the rest of the country. Social conditions deteriorated in the interwar years. Buda Castle, where Miklós Horthy, the country's regent, resided after 1920, played a fateful role in World War II.
Chapel Jak Portal Vajdahunyad Castle Budapest 1927
Cheers,
Pieter